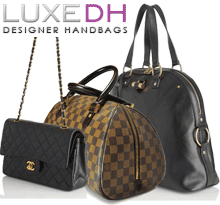 I looovvvee it, I am sooooo happy, guys my dream bag arrived and it's amazing. Thank you, you are the best
Miami, FL (PRWEB) April 03, 2012
Want to wear what celebrities wear, but on a tight budget?
LuxeDH (http://www.luxedh.com), the biggest online boutique for Authentic Pre Owned Bags, can help you afford that Louis Vuitton, Chanel, Gucci (and more!) handbag of your dreams.
Recently featured in The Miami Herald, LuxeDH offers women the best online prices, payment plans with no interest, free shipping and the widest selection of designer handbags. Customers can purchase a handbag on up to 6 payment terms! Imagine: purchase an Authentic Pre Owned Chanel Handbag without spending thousands of dollars all at once.
As The Miami Herald found out, LuxeDH also has extremely high customer service standards. Our handbag specialists are always available to find your 'must have' bag. The site employs professional shoppers, who can assist in locating that bag you need to complete your collection.
In addition, need help finding out if the handbag you purchased is authentic? LuxeDH provides the best authentication services in the industry.
Read the entire Herald article here:
http://www.miamiherald.com/2012/04/01/2726136/lightly-used-luxury-pre-owned.html
LuxeDH enjoyed an overwhelming response from the article in the form of increased traffic, phone calls, customer e-mails and online orders. Apparently, there are a lot of women out there, who are unaware that they can wear their favorite designer handbags without spending a fortune.
Roberto Szerer, the President and CEO of LuxeDH, is passionate about how his site provides women with a way to wear luxury without spending a fortune.
"Best part of the day at Luxe is when we get an 'I looovvvee it, I am sooooo happy, guys my dream bag arrived and it's amazing. Thank you, you are the best," said Roberto.
LuxeDH has also been featured on FOX-WSVN (Deco Drive), CBS Channel 4 News, The Sun-Sentinel and The Carson Daly Radio Show (97.1 AMP CBS Radio).
About LuxeDH:
LuxeDH is the biggest online boutique offering Authentic Pre-owned Designer Handbags. Louis Vuitton, Chanel, Gucci, Prada, Dior, Chloe, Balenciaga, Fendi, Marc Jacobs, Yves St. Laurent and more! All of our designer handbags are guaranteed authentic. We work hard to ensure that all of our designer handbags are authentic. We employ a team of authenticators around the clock to check and double-check all of our designer handbags. We pride ourselves on offering the most amazing deals on authentic pre-owned designer handbags to our loyal customer base.