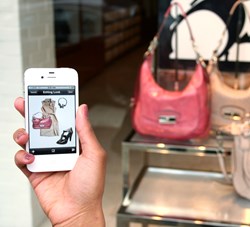 "Stylebook helps users organize everything about their personal style in one place so they end up with an amazing wardrobe they love to wear instead of a closet full of unworn clothes."
Westfield, NJ (PRWEB) April 04, 2012
Left Brain / Right Brain, LLC, announces the release of Stylebook 5.0, which adds over 40 new features to the popular closet management app, transforming it into a personal style powerhouse with new tools like statistics on how users wear their clothes, a size tracker, packing lists, new cataloging tools and style advice from experts. The headlining feature is a mobile shopping tool (powered by ShopStyle) that allows users to test items from over 7,000 brands with their real-life wardrobe before buying directly from the phone. "The new features have been designed to complement Stylebook's signature tools: the closet organizer, outfit editor, calendar and style inspiration library," says Bill Atkins, Stylebook co-founder.
"The goal is to help users organize everything about their personal style in one place so they end up with an amazing wardrobe they love to wear instead of a closet full of unworn clothes." says Jessica Moore, Stylebook co-founder. "Not so long ago, people would invest in a few high-end wardrobe staples that could be worn all the time and in many different ways. Fast fashion has taught us to haphazardly buy clothes on impulse because we can always buy more tomorrow. The key to achieving closet nirvana isn't a trip to the mall every other day, but rather the ability to work with what you have and carefully curate what you buy. Stylebook helps fashion lovers live by that philosophy by providing tools that allow them to mix and match items already in their closet, showing them what clothes have been neglected, and, most importantly, letting them compare potential purchases with items they already own - all things that will improve their personal style by making sure that purchases are going toward building a coherent wardrobe."
Stylebook Features:
Add images of your own clothes     
Remove background from clothing images with photo editing tools
Create magazine-style outfit layouts     
Add unlimited items to your outfits, layer and resize clothing on a free-form canvas
Plan what to wear on the calendar
Wardrobe history log
Style inspiration library to save and catalog inspiration images
Custom categories for inspiration, clothing and looks
Search for items with keywords, tags, category names, or properties (e.g. color, brand, etc.)
Share with friends via e-mail, Facebook, Twitter, Tumblr or wifi transfer
Bulk-email or wifi transfer several looks, clothing or inspirations at once
Add notes, tags, or properties like status or URL to any item
Browse shopping items from over 7,000 brands
Purchase items from retailers directly from your phone
Add new items from shopping directly to your closet
Advanced shopping search by color, brand, category, retailer, price, etc.
Create shortcuts to your favorite stores and brands
Plan what to pack for upcoming trips
Get clothing care, styling, and tailoring advice in Style Expert
Style Stats like "Most Worn" and "Least Worn" on closet items and outfits
Save your sizes across brands with the Size Tracker
Keep your data safe with iCloud Backup
And more
Pricing and Availability:
Stylebook is $3.99 (USD)
Currently available worldwide for through the App Store
Device Requirements:
iPhone or iPod Touch
Stylebook Has Been Featured By:
The Wall Street Journal, The New York Times, The Los Angeles Times, Vogue Australia, Harper's Bazaar UK, Mashable, NBC's "The Thread", InStyle, Cosmopolitan UK, Lucky Magazine, AdWeek, Marie Claire, Refinery29, New York Magazine's "The Cut", The iTunes App Store, The Tyra Banks Show and many more.
About Left Brain / Right Brain LLC:
Left Brain / Right Brain LLC is a Westfield, NJ-based software company co-founded by programmer Bill Atkins and Jessica Moore, a former fashion publishing assistant with five years of industry experience—including three years in the Lucky art department and an internship in the Vogue fashion closet.