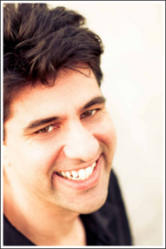 That's what being an entrepreneur is – living a few years of your life like most people would never dare, so you can spend the rest of your life living like most people never will.
Cincinnati, Ohio (PRWEB) April 03, 2012
For the last three years Sean Platt has run the successful blog, Ghostwriter Dad, where he has delivered on the promise to help, "good writers make a great living." Self-publishing has been good to Sean Platt, and he wants to be good to the writing community around him. Ghostwriter Dad is dead, long live The Digital Writer.
After spending three years as a ghostwriter, Sean Platt has written it all: memoirs, fiction, sales letters, info products, and everything in between. He co-founded the publishing imprint, Collective Inkwell in 2009, and finished out last year with the bestselling title, serialized fiction title, Yesterday's Gone,.
Modeling their serialized fiction after superbly scripted television such as LOST, Breaking Bad, and the Soprano's, and referring to their books as "episodes" and "seasons," Sean and his creative partner, David Wright, had the format working better than it had since Dickens, or at least since Stephen King's The Green Mile.
They have since gone on to publish Yesterday's Gone Season II, the Twilight Zone inspired, Dark Crossings, the YA paranormal title, ForNevermore, and the upcoming alien abduction thriller, White Space.
After seeing the firsthand success of serialized fiction at Collective Inkwell, Sean co-founded Sterling & Stone with his partners, Lori Taylor and Matt Gartland – taking the serialization concept and applying it to non-fiction, starting with production of three short, specific, high quality titles per week.
The Digital Writer isn't just the name of Sean's new website, it's also the title of the first set of books the company is publishing. Sean plans to give away a new Digital Writer title to his audience each week so he can help them "get smarter faster."
Sean says he had to "murder Ghostwriter Dad" because the old site couldn't help writers the way he wanted. The Digital Writer is built from the ground up for modern writers who are willing to work hard and smart so they can write themselves the best possible future.
Sean says that after years of struggle, he wanted more for modern writers who didn't want to struggle like he has.
"I've written keyword articles for $5 and sales letters for thousands. I've run niche micro-blogs, and blogs for half-billion dollar companies. I've ghostwritten books I'll never be able to claim, and been fortunate enough to see my name with a #1 beside it. I lost my house, nearly drowned in debt, and wrote until my fingers wouldn't work without my wife rubbing them back to life....
...But only so we could put our children in a school we could have only dreamed of a few years earlier, make enough money to buy my unlimited creative freedom, and use my fingers to write only what I truly want to write. But that's what being an entrepreneur is – living a few years of your life like most people would never dare, so you can spend the rest of your life living like most people never will."
Sean promises "EPIC" content once per week, and has added a free Member Area to the site where users can get exclusive access to free eCourses, video trainings, and special Q&A's, along with printables and worksheets for each of The Digital Writer books.
In an Internet swimming in a sea of sameness, with millions of blogs that simply come and go, The Digital Writer promises to be something truly special.
For further details or information, you can reach Sean through email or Twitter:
sean(at)thedigitalwriter(dot)net
http://twitter.com/seanplatt