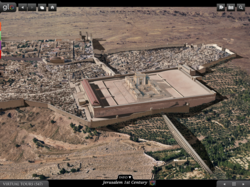 Most of our media in Glo has even higher definition than the retina display resulting in amazing visuals in the new iPad
Orlando, Florida (PRWEB) April 03, 2012
Just in time for Easter and the launch of the new iPad, Glo Bible, an award-winning, media-rich interactive Bible has released a new update making the vast library of rich media compatible with the innovative retina display on the new iPad. Also new: features to make reading the Bible a social experience.
Users can now explore the 3,800+ high definition media available in Glo using the most advanced iPad retina display with stunning clarity. "Most of our media in Glo has even higher definition than the retina display resulting in amazing visuals in the new iPad" says Nelson Saba, founder and CEO of Immersion Digital."The immersive experience is greatly amplified by the new retina display"
The latest release also makes the Bible more social, allowing users to post - or see what their friends have posted - using the Glo Bible. People can now post verses, notes or any one of the 3800+ interactive Glo media elements to Facebook, Twitter, YouVersion, the Glo Bible Facebook Page, or Email to a friend. The brand new "Me" lens has a "My Friend" feed that displays anything your friends have posted using Glo. Users can share verses, photos, artwork, maps, virtual tours images and more, and "like" or comment a friend's post directly from Glo on Mac, iPad and iPhone.
"Our goal is for the average person to experience the Bible in a new way, and make it a part of their everyday life," says Ananda Netzel, Glo press coordinator. "This Social integration – in addition to the new Bible Reading Plans – makes it easier than ever for people to engage and share."
This release also includes free new Bible reading plans for users to prepare for Easter, as well as new upgrade options to make Glo Premium content more accessible. New upgrade options include device-only upgrades for iPad and iPhone, in addition to the existing Glo Premium multi-device option. Device-only upgrades allow users to get the full NIV study Bible, premium translations, encyclopedia and 3800+ media elements on Glo Premium iPad-only for $29.99, or only $9.99 for iPhone-only Glo Premium. Also new, the $4.99 iPhone Complete Media pack, which includes the 3800+ Media Elements (Entire library of Glo Virtual Tours, Photos, Maps and Artwork)
Glo can be downloaded for free on Mac, iPad, PC and iPhone worldwide from http://www.globible.com. New users can register to receive "Glo Lite" with complete access to the bestselling NIV translation, along with the Glo Lite media pack, new social sharing features and more. Existing users can login on any device to access their media and translations. Retina-display screencaptures are available online: http://www.globible.com/press/retina.zip
About Immersion Digital
Immersion Digital is a technology and media company founded in 2008. Its flagship product, Glo, is an interactive Bible that brings God's Word to life through HD video, images, animations, maps, reading plans, 360-degree virtual tours and more. Chairman Phil Chen and CEO Nelson Saba (founder of Visual Book Productions, the creator of iLumina) share a vision to create immersive experiences that are relevant and engaging to this digital age. For more information please visit