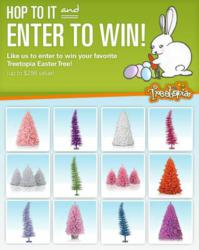 Easter is a time of renewal. Why not start a brand-new family tradition and decorate an Easter tree?
South San Francisco, CA (PRWEB) April 04, 2012
Treetopia, a leading online source for unique artificial Christmas trees, is bringing back a lesser-known Easter tradition - the Easter tree. Customers can choose from a selection of colorful artificial trees that they can decorate with Easter eggs and other ornaments. As a special gift, Treetopia is giving away an Easter tree to one lucky Facebook fan.
Visitors can join the sweepstakes as soon as they "Like" the Treetopia Facebook page. They can then go to the Treetopia Facebook Contest page and click the "Enter Now" button. An entry is officially made in the participants' names as soon as they fill in the short form that appears.
The custom of decorating a tree for Easter comes from central Europe and was brought over to America in towns with large German populations. Some areas decorate trees freshly removed from winter with painted eggs to give them body and vibrancy before their leaves return in full bloom. Others replicate the bare look of winter trees by gathering small branches and twigs into a vase before adding the colorful eggs. Many households attach one decoration to the tree for each of the 40 days of Lent in anticipation of Easter.
Treetopia aims to improve upon that tradition by offering Easter-colored trees to take the place of the usually-bare traditional trees. "We want to bring back the fun tradition of Easter trees, but we also want to make it better," says Carrie Chen, Vice President of Marketing for Treetopia. "Our colorful trees bring pop to the hues of Easter, and their full-bodied foliage is a marked improvement over the conventional twigs and sticks."
In line with the traditional pastel colors of the season, a Treetopia Easter tree can come in snow white, orange, and sky blue, among many other shades. Lights are pre-installed on the trees and many are made with generous amounts of tinsel.
Visitors looking for more traditional trees or bolder colors will find an even bigger selection at Treetopia's Christmas tree sale. Other trees come in candy apple red, fern green, and unusual patterns like candy cane and rainbow. The company offers a broad selection of shapes to choose from as well, allowing customers to pick the tree that best suits their own Easter decorating dynamics.
"Easter is celebrated as a time of renewal," adds Chen, "so why not start a brand-new family tradition and decorate an Easter tree?"
For more details on the Treetopia Facebook sweepstakes, visitors can find the official rules for the contest on the Treetopia Facebook page.
#####
About Treetopia™
Treetopia.com is an online store featuring a diverse selection of artificial Christmas trees. From traditional Christmas trees to colored Christmas trees and lighted palm trees, Treetopia has something for everyone. They sell exclusively online through http://www.treetopia.com.