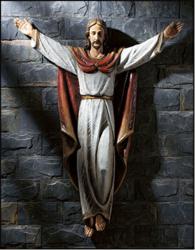 Easter celebrates the very basis of our faith, and our sweepstakes lets us commemorate this event with the Catholic community.
San Mateo, CA (PRWEB) April 05, 2012
Discount Catholic Products ™, a leading online source of Catholic gifts, celebrates the resurrection of Jesus Christ with a sweepstakes offering on Facebook. From March 3 to April 15, 2012, participants have a chance to win one of 3 giveaways from Discount Catholic Product's ™ wide selection of inspirational and devotional Catholic gifts. Individuals can join by visiting the Discount Catholic Products ™ Facebook page, clicking "Like", and then clicking "Enter" on the Easter Facebook sweepstakes page.
"Followers of Christ hold Easter as a most important season in our calendar. It celebrates the very basis of our faith, the resurrection of Jesus," says Kristen Padula, spokeswoman for Discount Catholic Products ™. "We want to commemorate the event with the whole community of believers by getting them excited about Easter through our quality devotional items."
The company is offering prizes to three lucky winners. First prize is a 24" chalk statue of Our Lady of Grace, a fully-painted figure of Mary standing atop a cloud. Second prize is an 8 1/4" metal statue of Jesus conversing with children. Third prize is a collection of metal Sacred Heart and Miraculous Badge scapulars with filigree borders. Discount Catholic Products ™ also shares a preview image of the prizes on its Facebook page.
Old and new customers of Discount Catholic Products ™ can also avail of a special 15% discount on purchases this Easter season. Shoppers can enter the discount code EASTER15 when making their purchases to receive the price reduction.
"We believe that Easter is as important a celebration as any, making Easter Catholic gifts a wonderful idea for the season," explains Padula. "We're offering this discount to make it as easy as possible for our customers to celebrate Christ's return to everlasting life."
The discount will apply to other products purchased within the promo period. The store has a wide selection of items, including Catholic jewelry, first communion gifts, and a variety of saint medals, among many other choices.
For more details on the Discount Catholic Products ™ Easter Facebook sweepstakes, visitors can find the official rules for the contest on the company's Facebook page.
About Discount Catholic Products ™
As an online presence in the Catholic community since 2003, Discount Catholic Products™ is committed to providing a great selection of Catholic gifts and superior customer service. Our wide collection of rosary beads and patron saint medals make wonderful gifts to loved ones. We take pride in our products and offer the best gifts for First Communion, Baptism, and other special occasions. Visit us at http://www.discountcatholicproducts.com.