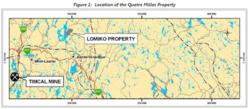 Vancouver, BC (PRWEB) April 02, 2012
(Financial Press) –Lomiko Metals Inc. (TSX Venture:LMR) is a graphite exploration company focused on exploring for high purity, large crystallite graphite on its Quatre Milles project.
Over the last few weeks the company has been making steady strides forward in the development of its high-potential graphite project. Those steps include completing a financing deal, hiring a geological consulting firm, making a new and experienced addition to its board of advisors, and completing a 43-101 Technical Report on its graphite project (full report available here http://lomiko.com/public/files/others/2012-03-15_NI_43-101_ReportQuatresMills__March152012__Final%5B1%5D.pdf).
Each move adds significantly to the unfolding Lomiko storyline. For example, the 43-101 report has been submitted to and accepted by regulators. The report details many key aspects of the historical exploration work on the property.
The report was prepared by geologist Jean-Sébastien Lavallée of Consul-Teck Mineral Exploration Consultants and includes the following highlights:
Graphicor (the past owner of the Quatre Milles property) completed reconnaissance mapping and prospecting as well as ground geophysics and a 26 hole diamond drill program totaling 1,625 metres
Three surface samples were collected and analyzed returning results of 14.16% Cgf, 18.06% Cgf and 20.35% Cgf.
23 of the initial 26 drill holes intersected graphite concentrations with graphite concentration in range of 4.69% in hole Q90-1 to a highlight of 8.07% Cgf over 28.60 metres in hole Q90-7.
The report also defines the proximity of Lomiko's graphite project to the operational Timcal graphite mine.
The past exploration results from the project, its proximity to other known and economic graphite deposits, and Lomiko's development plans have attracted a lot of investment capital as well.
On February 3, 2012, the company announced a financing deal to raise an estimated $700,000 of capital to fund advanced exploration work on the project.
Just over a month later Lomiko announced it had completed the financing deal for more than $900,000. That's more than 28% more than was initially sought and reflects the investment demand for Lomiko and graphite.
Lomiko has also attracted additional management. The company has added Dr. Dietmar Siebholz to its board of advisors.
Siebholz has a Ph.D. in economics and has extensive experience in the graphite market as an investor, analyst, and discovering uses for graphite in advanced technologies.
Furthermore, Siebholz has more than 50 years of public market experience including on the floor of the Dusseldorf (Germany) Stock Exchange and nearly two decades involved in precious metals and commodities investing and markets.
These steps are key to the development of Lomiko's rapid rise in the graphite market.
Lomiko, as an early mover in the graphite sector, has had its share price more triple since the start of 2012. It currently has a total market cap of under $9 million.
Learn more about Lomiko Metals at http://www.lomiko.com.