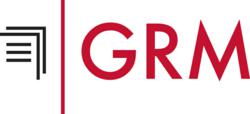 (PRWEB) April 02, 2012
As an environmentally conscious company, GRM is doing its part to both preserve energy and safeguard the environment. GRM's commitment to Going Green extends to trucks, emissions, destruction, facilities, and really, everything we do.
Records management, after all, expends a great deal of energy, and is therefore, full of potential for realizing conservation benefits. Studies have revealed that most of the flow of energy in buildings is related to the flow of information—communications, authorizations, processes, collaborations, distributions, reports and so on. As Information Management, experts, we, at GRM are always looking to do more with less, to deliver outstanding results in ways that are sustainable, cost-effective and friendly to the planet as well as your business environment.
Making a Difference
Current GRM Sustainability Initiative efforts include:

Environmentally friendly destruction; paper is shredded, baled and sent to a paper mill where it is pulped and completely recycled.
100% recyclable corrugated containers.
Environmentally friendly electronic customer billing.
Web-based solutions such as GRM's proprietary eAccess™ inventory control software and The Online Record Center which supports automated, paperless processes.
Energy-conserving automatic lighting timers at all facilities.
Energy-conserving florescent lighting at all facilities.
Energy-conserving motion detectors at all facilities.
Use of energy-efficient electronic interfaces such as mobile wireless handhelds and radio based technologies.
Raising staff awareness of our sustainability efforts and welcoming employee suggestions on how we can do more.
In the near future, GRM will be focusing on:
Replacing warehouse and office lighting with T5 High Bay Fixtures to reduce energy consumption and costs by up to 60%. T5's will also be installed on all future installations.
Converting a portion of our truck fleet to alternative fuels and alternative engines for greater efficiency and less impact on the environment.
Continuing awareness and education by offering employees "Make Your Workplace Green" curriculum through a leading university or Not for Profit Organization.
GRM Document Management is a leading provider of lifecycle records and information management solutions. The company brings proprietary innovation, blended integration and new levels of cost efficiency to document storage, data protection, digital/electronic document management and certified destruction. With over 25 years of experience, GRM has earned the trust and continued business of more than 5,000 customers - large and small, domestic and multinational - representing a wide range of industries. Clients are served from state-of-the-art, climate-controlled facilities in major U.S. markets and internationally throughout China.