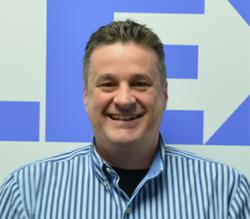 "Jack has a valuable mix of customer service orientation and expertise derived from his background as a licensed electrician, and he's an expert at providing solutions across a variety of requirements," said Allen de Marcken, VP/Sales for Lex Products.
Shelton, CT (PRWEB) April 02, 2012
Lex Products Corporation has promoted Jack Hogarth to Midwest Territory Sales Manager from Inside Sales Representative for the region, it was announced today.
Hogarth replaces former territory sales manager, Tom Siko, who was promoted to National Sales Manager, Military Power Systems in February. Lex Products is a leading North American manufacturer of power distribution and control products that specializes in portable power distribution systems for the entertainment, industrial and military markets.
"Jack Hogarth's well-rounded experience and industry knowledge will benefit Lex Products' customers and prospects significantly," said Allen de Marcken, Vice President/Sales for Lex Products. "Jack possesses a valuable combination of customer service orientation and critical expertise derived from his background as a licensed electrician. He has an essential aptitude for providing solutions to customers for a wide variety of power requirements."
Prior to joining Lex Products, Hogarth was with Hubbell Incorporated as a Technical Services Representative, providing technical assistance to distributors, end-users, architects and engineers.
Previously, he worked for Camsan, Inc., where he served the commercial, industrial and residential markets.
Hogarth currently holds a Connecticut E2 Journeyman Electrical License and is a resident of Stratford, Connecticut.
About Lex Products:
Lex Products Corporation is a leading manufacturer of innovative power distribution and control systems for demanding markets, including military, entertainment and industrial. Founded in 1989, the company specializes in portable power systems including distribution boxes, cable assemblies, cable protectors and other products, designed to withstand rough use and harsh environments. Lex Products is ISO 9001:2008 certified in the design and manufacturing of sheet metal and cable assemblies. Created by the International Organization for Standardization, ISO 9001 is an international standard that mandates requirements for an organization's quality management system.
Headquartered in Shelton, Connecticut, the company also has offices in Sun Valley, California. The company was ranked in the 2011 Inc. 5000, and ranked 72nd for growth in the manufacturing segment. To learn more about Lex Products, please visit http://www.lexproducts.com.