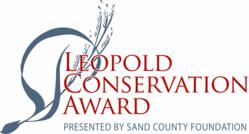 The nominees and finalists for the 2012 award are all highly dedicated to a land ethic that will help to ensure that the land, water and wildlife in their care will flourish for future generations.
Pierre, SD (PRWEB) April 03, 2012
Sand County Foundation, the South Dakota Cattlemen's Association and the South Dakota Grassland Coalition are pleased to announce the finalists for the 2012 Leopold Conservation Award.
"The high caliber of nominees for the Leopold Conservation Award, year after year, is an indication that South Dakota's natural resources are in good hands," said Brent Haglund, president, Sand County Foundation. "The nominees and finalists for the 2012 award are all highly dedicated to a land ethic that will help to ensure that the land, water and wildlife in their care will flourish for future generations."
The Leopold Conservation Award, named in honor of world-renowned conservationist Aldo Leopold, is comprised of $10,000 and a Leopold crystal. The award is presented annually in eight states to private landowners who practice responsible land stewardship and management.
The 2012 finalists, listed alphabetically, are (brief bios appear below):

Arneson family, Perkins County
Gary & Amy Cammack, Meade County
Ray & Linda Gilbert, Harding County
Jim & Karen Kopriva, Clark County
The Leopold Conservation Award recipient will be announced in late April and formally recognized November 28 at the South Dakota Cattlemen's Association's Annual Convention in Pierre.
The Leopold Conservation Award in South Dakota is sponsored by American State Bank, Belle Fourche River Watershed Partnership, Daybreak Ranch, Ducks Unlimited, Farm Credit, Millborn Seeds, Natural Resources Conservation Service (NRCS), Partners for Fish and Wildlife, the Rasmussen Leopold Fund, South Dakota's Conservation Districts, the South Dakota Department of Environment and Natural Resources, the South Dakota Farm Bureau Federation, the South Dakota Department of Game, Fish and Parks, the South Dakota Grassland Coalition, the South Dakota State University Foundation, The Lynde and Harry Bradley Foundation, The Nature Conservancy and World Wildlife Fund (WWF).
For more information, please visit http://www.leopoldconservationaward.org.
Gary and Amy Cammack (Meade County)
Gary and Amy Cammack operate their 7,000-acre ranch under a philosophy that involves improving the range, creating wildlife habitat, conserving energy and building a productive and profitable cattle business. The Cammacks planted 20,000 trees over the past 27 years. They believe that the plantings and isolation of riparian areas can provide wildlife habitat, as well as protection for livestock along the perimeters of the shelterbelts. In addition, they are building a water jet system to plant willow and cottonwood shoots, providing added protection to livestock and wildlife. Gary and Amy also take pride in recycling materials for agricultural purposes. For instance, their water tanks are all made out of old equipment tires. They also were among the first ranchers to install V-windbreaks from reject metal they buy from steel mills. These 10 foot high, 96 foot long, V-shaped windbreaks provide protection from the weather but also keep cattle out of creek bottoms, resulting in fewer nutrients in the water and less trampling of vegetation in riparian areas.
Jim and Karen Kopriva (Clark County)
Jim and Karen Kopriva's ranch, which they operate with their son, Lee, is located near Raymond and consists of approximately 2,000 acres. Initially, the Koprivas were grain farmers but economics and a fondness for cattle prompted the family to transition their cropland to grassland and hayland over the past decade. Today, just 130 acres are no-tilled and cropped. The remaining acreage consists of native rangeland, seeded pastures and hayland. The Koprivas utilize rotational grazing, which has helped them increase grazing by 50 percent. Their rotational grazing strategy includes cross fencing and water developments, such as two rural water pipelines that are designed to utilize geothermal heat to provide ice-free water for the cattle in remote areas. The family uses controlled burns to combat invasive species. They also have their herd graze cover crops and crop residue, taking grazing pressure off of their pastures and helping to lower costs and dependence on harvested and purchased feed. The Koprivas enhance wildlife habitat on their ranch by leaving some acres on each quarter of their land for wildlife-friendly enhancements such as tree belt and extra wide fencerows.
Arneson family (Perkins County)
In 2004, Eric Arneson, when faced with the reality of encroaching development, made the difficult decision to leave the land his great-grandfather homesteaded in Montana. He and his family now operate a 21,000 acre ranch near Bison, South Dakota. In the span of eight years, the Arnesons have made significant strides in grassland and water management. They implemented rest rotation grazing on over 16,000 acres of range and pasture, maintained an existing cell grazing system, converted 2,500 acres of crop ground to perennial pasture, installed over 8 miles of fence and planted nearly 5,000 feet of windbreaks. Their water management efforts include the installation of a well/pump house, 31 water tanks, 17 miles of pipeline and improved the riparian area around Thunder Butte Creek. The Arnesons' conversion of some of their cropland to grassland has led to more sustainable grassland for livestock production and improved wildlife diversity, which, they believe, is an indicator of an effective management plan.
Ray and Linda Gilbert (Harding County)
The Gilbert Angus Ranch has been exclusively a grass ranch since 1894. Ray and Linda Gilbert, their son, Lloyd, his wife, Patty and their children manage the grassland through a rotational grazing system, and they are dedicated to it. 90 percent of their land has never been mechanically disturbed. The Gilberts believe grazing is the best use of the hard grasses of Harding County. Their grazing system has proven to be beneficial through lower input costs, less stress on the land and greater grass variety. The family's management efforts have allowed the Gilbert family to increase their Angus cow herd to 1,100 head, and they now run only mother cows that are born and raised on the ranch. A primary goal of the Gilberts' grazing system is sustainability. Their grazing system and water development projects have allowed the family to maintain herd size even in times of severe drought. As a result of their many conservation practices, the Gilbert family has seen a great diversity of wildlife on the ranch. Gilbert Angus Ranch is home to wildlife species such as pronghorn antelope, mule deer, fox and several types of birds.
ABOUT THE LEOPOLD CONSERVATION AWARD
The Leopold Conservation Award is a competitive award that recognizes landowner achievement in voluntary conservation. The award consists of an Aldo Leopold crystal and a check for $10,000. In 2012, Sand County Foundation will also present Leopold Conservation Awards in California, Colorado, Nebraska, Texas, Utah, Wisconsin and Wyoming.
ABOUT SAND COUNTY FOUNDATION
Sand County Foundation is a private, non-profit conservation group dedicated to working with private landowners to improve habitat on their land. Sand County's mission is to advance the use of ethical and scientifically sound land management practices and partnerships for the benefit of people and their rural landscapes. Sand County Foundation works with private landowners because the majority of the nation's fish, wildlife, and natural resources are found on private lands. The organization backs local champions, invests in civil society and places incentives before regulation to create solutions that endure and grow. The organization encourages the exercise of private responsibility in the pursuit of improved land health as an essential alternative to many of the commonly used strategies in modern conservation.
ABOUT THE SOUTH DAKOTA CATTLEMEN'S ASSOCIATION
The South Dakota Cattlemen's Association is a member-driven organization working to advance and protect the interests of all cattlemen. SDCA works to facilitate a profitable business climate and promote environmental stewardship.
ABOUT THE SOUTH DAKOTA GRASSLAND COALITION
The South Dakota Grassland Coalition is a non- profit organization that seeks the voluntary improvement of grasslands for the long-term needs of the resource and its various species. The SD Grassland Coalition is dedicated to improving and maintaining the State's grasslands by informing and guiding grassland managers to make cost-effective and environmentally sound management decisions.