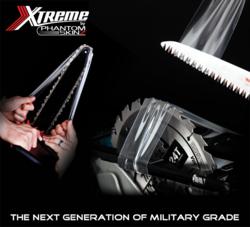 Phoenix, Arizona (PRWEB) April 02, 2012
PhantomSkinz, cell phone protection film innovator, introduces a new premium version of their Ultra Clear Screen protection film at the 2012 SPREE Specialty Retail show in Las Vegas, NV, called XTREME. As the name suggests, the new line offers industry-leading toughness, durability, clarity, and Glass-Like finish in a self-healing protective film. Initially available through PhantomSkinz retail outlets and through select retail partners, on-line availability will come in the following weeks.
PhantomSkinz representatives will demonstrate PhantomSkinz Xtreme at the PhantomSkinz SPREE booth in Space 939.
Coined "The next generation of Military Grade", Xtreme offers premium protection for users of cell phones and other devices that tend to be aggressive and hard on their touch screens. Complementing the current line-up of PhantomSkinz films (Ultra-Clear, Matte Finish and the ever popular Chromatics line consisting of our Patent Pending Colors, 3 dimensional Wood Grain, and Carbon Fiber), Xtreme "goes to the extreme" to protect your new touch-screen device!
"Since 2004, the PhantomSkinz team has been designing and installing Protection Films on devices, instruments and even motor vehicles. Since then, we have earned the reputation of having the best products available in the industry, whether it be the clarity and flatness of our Ultra Clear or the unique, patent pending line of colored Chromatics films." said Patrick Dixon, General Manager of PEDCO. "The introduction of Xtreme solidifies our commitment to always be on the leading edge of product development while setting the standard in quality. You just have to see Xtreme to believe it!"
The premium Xtreme by PhantomSkinz will be available installed for a suggested MSRP of $24.95 for smartphone screen protection.
For more information about PhantomSkinz or any of its products, please visit PhantomSkinz.com.
About PEDCO, LLC.:
PEDCO, LLC dba PhantomSkinz, based in Chandler, Arizona, prides itself on offering premium quality and superior service. PhantomSkinz™ is a market leader in innovative mobile device protection skins that protect, personalize, and enhance the mobile experience. The company's products are sold nationwide via their mall cart/RMU program, and worldwide through the PhantomSkinz website.
Company:
PEDCO, LLC dba PhantomSkinz
Sales Department, 480-497-2965
Sales(at)PhantomSkinz(dot)com
Source: PEDCO, LLC