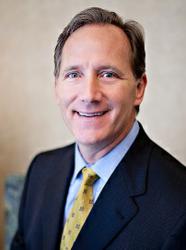 "The LANAP Laser Surgery has revolutionized the field of periodontics," says Dr. Timothy Davis.
Naples, FL (PRWEB) April 02, 2012
Dr. Timothy Davis, a Periodontist in Naples, FL, now offers patients LANAP (Laser Assisted New Attachment Procedure) Laser Gum Surgery that treats periodontal disease without scalpels or sutures. Despite the many studies that have reported a link between gum disease and heart disease, pancreatic cancer, and premature or low-birth-weight babies, many people remain reluctant or afraid to see a periodontist to have their gum disease treated. Traditional periodontal disease treatments can be painful and invasive.
Traditional periodontal disease treatments require the doctor to cut the gums in order to clean and treat the area. Some patients report moderate to severe pain following traditional gum surgery and require one or more days off of work in order to recover. Since the gums are cut, traditional surgery may result in the gum line being reduced. Reducing the gum line may cause aesthetic problems for the patient and may cause an increase in sensitivity to hot or cold.
The first FDA cleared laser gum disease treatment, the LANAP Laser is a highly effective method for treating moderate to severe periodontal disease. LANAP does not require the use of a scalpel or sutures and is a minimally invasive procedure that causes very little recession of the gums and very little discomfort for the patient. The LANAP Laser works by operating at a wavelength that can differentiate between diseased tissue and healthy tissue and essentially eliminates the bacteria responsible for periodontal disease. Because the laser is so selective, Dr. Davis has seen fantastic, predictable long-term results.
"The LANAP Laser Surgery has revolutionized the field of periodontics, "says Dr. Timothy Davis. "Before the LANAP laser, our treatment options were limited and we were often unable to save teeth that we can now save thanks to the laser treatment option. While we do have success with other treatments, the LANAP Laser is now my preferred treatment method because of its less invasive protocol and the predictable results."
As a leading periodontist in Florida, Dr. Timothy Davis believes in providing his patients with state-of-the-art dental care and has been trained extensively to provide his patients with procedures such as dental implants, cosmetic periodontal surgery, and LANAP. Dr. Davis has an office located at 4933 Tamiami Trail North, Suite 100, Naples, FL 34103, and can be reached by phone at (239) 330-4996.