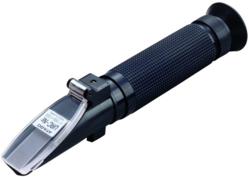 Farmingdale, NY (PRWEB) April 03, 2012
A refractometer is a device that measures the refractive index (RI) of liquids, gases and translucent solids such as glass and gemstone. The RI is a numeric value that defines how light or radiation transmits through the substance being tested. It is designed to specify the reduction of the velocity of light when passing through the medium.
The most common medium that is measured by a refractometer is liquid. The liquids are analyzed for certain properties like salinity, gravity of urine, unsolidified concentration and blood protein.
The urine refractometer is used to measure the gravity of urine by calculating its density in comparison to purified water. It is prevalent in health care facilities, hospitals, scientific laboratories, veterinary clinics, law enforcement proceedings and athletic events. A urine refractometer is frequently used to test an athlete's hydration levels. In fact, there are many schools and organizations that require competing athletes to have a urine specific gravity no greater than 1.025.
In law enforcement and probation offices, the urine refractometer provides a fast and stress-free approach to testing for illegal drugs. With a hand held digital display, an officer can obtain a reading effortlessly as well as get a pure sample without contamination.
In the medical trade, a urine refractometer is regularly used for quick and easy diagnostics and can indicate various health issues and diseases. They are utilized to measure serum protein, vital fluid levels, RI sugar and non-sugar solution, specific gravity and refractive index. In effect, it only takes a couple drops of urine to disclose possible health issues like dehydration, kidney problems, renal diseases, glycosuria and diabetes insipidus (DI).
In the medical industry, this is by far a better solution than extended laboratory testing that can take days or sometimes weeks for results. As well, the device is extremely portable and an ideal replacement for cumbersome equipment for routine testing.
Because urine specific gravity (USG) is subjected to factors that influence refraction, solute concentrations are sometimes estimated. Factors that may influence refraction are temperature and the use of a conventional light source. To obtain more accurate and efficient results, there are refractometers that have various features such as:

Variable scale ranges for easy analysis
A thermometer to account for temperature fluctuations
Multiple wavelength light and prisms to eliminate the rainbow effect
In assessing the reliability and accuracy of USG, a urine refractometer is by far the better choice compared to reagent strips and hydrometers. Current research shows that refractometers are not only accurate but are unfailing with multiple testing. A study by Gettysburg College in Gettysburg, PA showed that refractometers were consistent between tests and participants. The hydrometer was consistent between tests but not among participants. The reagent strips were not consistent between tests or participants.
In effect, urine refractometers are very reliable, extremely accurate as well as portable. There are various types of urine refractometers that are available such as:
Digital Pocket that is durable
Handheld analog that is cost effective
Hand held digital featuring RI methods
PEN types that is very lightweight and user friendly
Conclusively, the urine refractometer is accurate, consistent, fast, user friendly and only requires a single drop of urine. It is the ideal solution for accurate USG measurement not only in research laboratories but in health clinics, hospitals, professional and competitive sports activities, veterinary facilities and law enforcement offices.