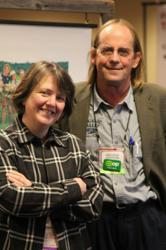 'Organic Valley's annual meeting is a celebration of the strength of the cooperative model and how each member benefits when we remain true to our mission,' said George Siemon, founding farmer and C-E-I-E-I-O of Organic Valley.
La Farge, Wis. (PRWEB) April 03, 2012
More than 600 Organic Valley farmer-owners, half of whom hail from the Midwest, and several of whom came from as far away as California and Maine, converged in La Crosse, Wis. for the cooperative's annual meeting activities Thursday, March 29 through Saturday, March 31. Event highlights include a keynote speech by Kathleen Merrigan, Deputy Secretary of Agriculture, and an awards banquet during which Organic Valley rewarded its farmers for quality and commitment to organic and recognized the next generation of young organic farmer-leaders with "Generation Organic" awards.
"Organic Valley's annual meeting is a celebration of the strength of the cooperative model and how each member benefits when we remain true to our mission," said George Siemon, founding farmer and C-E-I-E-I-O of Organic Valley. "Together, with hundreds of our farmer-owners, we are grateful to have shared another successful year."
Key annual meeting themes focused on goals for 2012 and celebrating a successful 2011, during which Organic Valley saw a record $715 million in sales and 15.3 percent growth, the addition of 212 new farmers, an increase in farmer pay price and the donation of more than $2.2 million to nonprofit organizations dedicated to advancing organic food and farming.
Deputy Secretary Merrigan addressed annual meeting attendees on Saturday afternoon, highlighting USDA efforts in organic; the Know Your Farmer, Know Your Food program; and identifying challenges ahead for the organic community.
"I am pleased to join the CROPP cooperative annual meeting today in Wisconsin," said the Deputy Secretary. "USDA is committed to helping organic agriculture grow and thrive by strengthening USDA's National Organic Program and better integrating support for organic producers across the Department. We also continue to support cooperatives, a business model that's been very successful for organic and other producers. Both of these initiatives are examples of how USDA helps create additional economic opportunities for our nation's farmers and ranchers."
Walt Freese, Stonyfield President and CE-Yo, and Robyn Schrader, National Cooperative Grocers Association CEO, also addressed attendees, underscoring the importance of partnership, and the cooperative business model.
"Annual meeting is always an exciting time for the farmers," said Mariann Holm, Organic Valley farmer-owner from Elk Mound, Wis. "It provides an opportunity to not only connect with our peers, but to share in the celebration of a successful year, and help shape our co-op's progress in the year ahead. One of the reasons I'm grateful to be a member of Organic Valley is because of moments like this where hundreds of us farmer-owners have a voice in the decisions that affect our families, our communities and the future of organic agriculture."
Additional highlights discussed at the annual meeting included the following:
•Recent completion of Organic Valley's new headquarters expansion, a symbol of the co-op's steady growth and success, as well as its commitment to the vitality of rural communities
•Construction progress on the Cashton Greens Wind Farm, Wisconsin's first community wind project
•Launch of Organic Valley American Cheese Singles—unprocessed, 100 percent real organic cheese slices, as opposed to "processed cheese food"
•Organic Valley Grassmilk™, an organic specialty milk produced from cows that are 100 percent grass-fed
Organic Valley: Independent and Farmer-Owned
Organic Valley is America's largest cooperative of organic farmers and one of the nation's leading organic brands. Organized in 1988, it represents 1,687 farmers in 35 states and three Canadian provinces, and achieved $715 million in 2011 sales. Focused on its founding mission of saving family farms through organic farming, Organic Valley produces a variety of organic foods, including organic milk, soy, cheese, butter, spreads, creams, eggs, produce and juice, which are sold in supermarkets, natural foods stores and food cooperatives nationwide. With its regional model, milk is produced, bottled and distributed right in the region where it is farmed to ensure fewer miles from farm to table and to support our local economies. The same farmers who produce for Organic Valley also produce a full range of delicious organic meat under the Organic Prairie label. For further information, call 1-888-444-MILK or visit http://www.organicvalley.coop, http://www.organicprairie.coop and the cooperative's farmer website, http://www.farmers.coop. Organic Valley is also on Twitter @OrganicValley and Facebook http://www.facebook.com/OrganicValley.