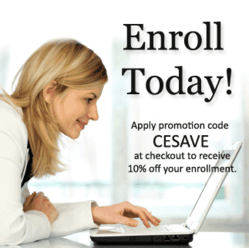 Enter the promotional code "CESAVE" at checkout to receive the spring and summer enrollment discount.
Fargo, ND (PRWEB) April 04, 2012
The CE Shop recently announced a special 10 percent discount on all spring and summer online courses for real estate professionals seeking to continue their education or renew their state license.
Online courses at The CE Shop are organized according to state, making it easy to find courses that meet local requirements. Real estate professionals can register, complete courses and renew their real estate license, all online at their own convenience. The team at The CE Shop includes real estate industry experts to help answer questions and develop relevant, informational courses. Real estate continuing education has never been easier.
Now The CE Shop is offering a special spring and summer promotion with 10 percent off enrollment fees. Simply visit http://www.TheCEShop.com and click on the map to view the course catalog for each state. Click on the course title to view more information and click on "Proceed to Checkout" when the desired courses are selected. Since each state has different real estate licensing requirements and deadlines, these dates are listed as well.
Enter the promotional code "CESAVE" at checkout to receive the spring and summer enrollment discount. Note that the promotional code must be entered at checkout and is not valid with any other promotion or discount code.
The CE Shop offers 24-hour email support and technical assistance and also has a 100 percent guarantee. Visit the FAQ Page for more information about finding classes, enrolling and completing real estate classes through The CE Shop.
The CE Shop is a fully accredited member of the Association of Real Estate License Law Officials and offers online courses in accordance with state regulatory agencies. The CE Shop offers online real estate courses that fulfill state and local continuing education requirements as well as general real estate continuing education classes. For more information, visit http://www.TheCEShop.com or call 888-827-0777. The website also offers live chat for immediate assistance or any questions about the available courses, state requirements or help with enrollment.