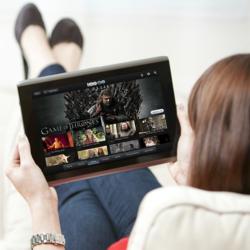 Offering more than 1,400 titles, HBO GO allows RCN's authenticated customers to instantly watch any episode of any season of the hottest HBO series – online.
Chicago, IL (PRWEB) April 03, 2012
From the company that transformed television viewing by bringing cinematic storytelling and unforgettable characters to life, HBO GO is one of the newest streaming TV apps in the market. HBO GO is an authenticated online video destination for RCN customers with an HBO subscription. And while it sounds rather complex, it's actually quite simple. Through HBO GO, HBO has made it easy for RCN's customers to access HBO's online content from virtually any device connected to the Internet. HBO GO is the latest and greatest addition to HBO's digital offerings and a perfect complement to HBO On Demand® giving area cable service customers more viewing choices than ever before. With continuously updated content, HBO GO lets customers with a high-speed Internet connection watch the hottest HBO television programs from a PC or MAC computer through a browser-based application.
With RCN Chicago as cable provider and HBO GO's online service, customers get a number of additional features –free. HBO GO gives viewers the capability to create a "Watchlist" to track and organize content for later viewing; they can even personalize their view in slideshow, grid, or list format. Plus, with RCN cable service and HBO GO, Chicago customers benefit from additional exclusive content including interviews, recaps, and behind the scene extras. Individual HBO GO experiences can be further customized with a "Series Pass" that will automatically alert customers to new episodes of favorite HBO programs as soon as they become available. Don't be the last to watch the latest episodes of Game of Thrones®, Boardwalk Empire® or Eastbound & Down®. Get the inside scoop with additional and exclusive bonus materials, soundtracks, and cast information - all included in HBO GO online service from RCN Chicago.
Offering more than 1,400 titles, HBO GO allows RCN's authenticated customers to instantly watch any episode of any season of the hottest HBO series – online. Wherever they are, subscribers can connect with the Hollywood-happenings of Vincent, Eric, Johnny Drama and Turtle on HBO's Entourage®. Customers can get some friends together to go back to the American Wild West with the hit-HBO show Deadwood®, or find out why so many people have gotten vampire-fever watching the hottest HBO series True Blood®. And, with every episode of The Sopranos® at their fingertips, it's easy to re-live the intense drama of the most notorious family on TV.
No matter what television genre is preferred, RCN cable service together with HBO GO has viewers covered. From full-length motion pictures to the hottest sports contests, plus documentaries, specials, and theatrical performances, HBO GO offers instant access to it all. What's more? HBO GO also offers HBO's acclaimed series, HBO Films, HBO Miniseries, HBO Documentary Films, HBO Sports, plus comedies, late night programming, and the largest selection of recent blockbuster movies in both standard and high definition. Get all that HBO has to offer, online and on-the-go, with HBO GO and Chicago cable provider, RCN.
About RCN
RCN Telecom Services, LLC (http://www.rcn.com) is a privately-held competitive broadband services provider delivering all-digital and high-definition video, high-speed Internet and premium phone services to residential and small-medium business customers. RCN's primary service areas include Washington, D.C., Philadelphia, Lehigh Valley (PA), New York City, Boston and Chicago.