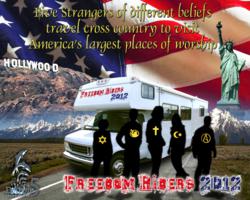 Catholics have been urged since the 1960's (post Vatican II) to reach out to members of other religions. –Dr. Dendinger
Yorba Linda, CA (PRWEB) April 03, 2012
Dolphin 5 Productions is currently in pre-production on Freedom Riders 2012, an interfaith documentary. The film will document 5-7 strangers of different religions and beliefs on a cross country road trip to visit America's largest places of worship in the last 2 weeks of June 2012. The strangers will include a Sikh, Mormon, Christian, Roman Catholic, Jew, Muslim, and Atheist. A Buddhist and Scientologist are still in consideration.
The trip will include stops to:

San Jose, CA (Sikh Gurdwara Sahib, Sikh)
Salt Lake City, UT (Salt Lake Temple, Mormon)
Houston, TX (Lakewood Church, Christian)
Dearborn, MI (Islamic Center of America, Muslim)
Washington DC (The National Cathedral, Episcopalian/Interfaith)
Washington DC (Basilica of the National Shrine of the Immaculate Conception, Roman Catholic)
New York, NY (Emanu El, Jewish)
The purpose is to show that people can coexist with different beliefs and promote interfaith, peace, and harmony.
Kickstarter.com is currently accepting backers for the next two weeks and offers great rewards.
For private backing contact Melissa Fazli at melissafazli(at)yahoo(dot)com
A few current backers include:

Businessman and philanthropist from Yorba Linda, CA,
Sunil Tolani, Hindu "My heart cringes with anguish and tears in my eyes when I read or hear news that that my fellow countrymen from INDIA---WORLDS LARGEST SECULAR DEMOCRACY practicing Sikhism, Hindus, Islam are victms of sensless hate crimes throughout the AMERICAS." –Mr. Tolani

Director of Adult Faith Formation at Our Lady Queen of Angels Parish in Newport Beach, CA, Dr. Victoria K. Dendinger, PhD, Roman Catholic. "Catholics have been urged since the 1960's (post Vatican II) to reach out to members of other religions." –Dr. Dendinger
Islamic Society of Orange County, Muslim.
More about Melissa Fazli:
Melissa Fazli has been happily married for 14 years with 3 handsome sons. She began iReporting on CNN since January of 2009 with over 230 iReports vetted for use, after being inspired by President Obama's call for National Service. She has been seen on CNN, HLN, CNN International, CNN Radio, and CNN.com. Melissa has a degree in Humanities with a concentration in Social and Behavioral Sciences. She is graduating in May with a Bachelor's in RTVF (Radio, Television, and Film) from California State University Fullerton. She opened up her own production company Dolphin 5 Productions this year to make documentaries that inspire her. More about her motivation for the film can be seen at Egberto Willie's Blog: A Project by a Friend Worth Supporting.