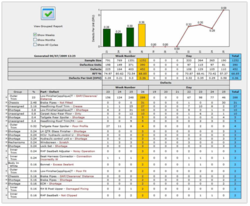 (PRWEB) April 04, 2012
FLAGS® QIS Production and Quality Management Software has been providing software to the auto, railroad and casting industries for over twenty years. This software is now embarking on a pilot project into the bus manufacturing industry. The software itself completely replaces the use of paperwork, inspection files and sign-off sheets. The FLAGS® QIS software features the ability to identify issues on predetermined checklists or graphical images of the vehicle section simply by touching the screen on a handheld or static device. The software utilizes touch screen technology to enable personnel to simply and quickly complete checklists or identify exact locations of the defects within the bus. This information is then made available real time to repair technicians and other interested parties such as foremen providing them with the information they need to perform the repair. The system can also be integrated into ERP and MRP type systems to facilitate calling up of parts and logging of hours spent.
A great benefit of transcribing all this data, previously collected on paper, onto electronic format is that it is the real-time that real-time was meant to mean. It helps organizations to work by RFT (Right First Time) a quality management concept that defect prevention is more advantageous and cost effective than defect detection and associated rework. By identifying issues real time and ensuring standard phrases are used throughout the organization to delineate them, this allows them to be "flagged" and addressed much earlier i.e., before multiple other assemblies have been produced
By utilizing this intranet based reporting system personnel will then be able to know the status of every assembly within the facility i.e., which bus has been delayed the longest, which items have been outstanding the longest, in fact giving a complete overview of every bus within the facility.
The software also features totally customizable real-time reporting which is available to all designated personnel via the intranet. Having access to this real time information not only drives improvements in quality due to identification of repetitive issues, accurate measures of improvement it also greatly assists in making the decision throughout the facility such as manpower loading requirements, repair station availability, repair hour taken and equipment/parts reordering.
FLAGSQIS has been used throughout the auto industry for many years the software is exceedingly user friendly and personnel can be trained in one 30 minute session to log issues, and this has meant personnel are not reluctant to take on a new way of doing a task. That along with the great advantages of real time feedback ensures "The software provides an extensive information to support staff as to the status of the production throughout the facility," said Gary Halford, President of the Interax Group.
Interax Group is the North American supplier of Paradigm 3 document control software and Flags® quality and production control and management software.