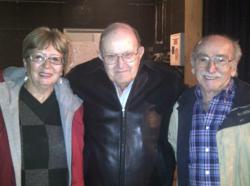 The medium of digital storytelling and the process of creating it gets to the heart of the story, or the place where it is most compelling.
Deanne Kapnik, Project Manager
Denver, CO (PRWEB) April 04, 2012
Generations: Survivor Stories will become part of the groundbreaking Community Narratives Project, a compilation of "digital stories" that profiles Denver Jewish community members through an audio/visual format, enhancing the visual beauty and uniqueness of the museum's permanent exhibit, 4,000 Year Road Trip: Gathering Sparks. Generations Opening Night will take place Thursday, April 19, 5:30 pm at the Mizel Museum, 400 S. Kearney Street, Denver. April 19 is Yom HaShoah (Holocaust Remembrance Day).
Generations digital stories are short documentaries of community members who survived the Holocaust, along with their children and/or grandchildren. The stories will be viewable on three screens throughout the museum and the storytellers will be on hand to discuss their stories.
iPads incorporate the medium of digital storytelling into the 4,000 Year Road Trip: Gathering Sparks, turning stories into "living objects" that deepen the learning experience for museum visitors. Each of the 40 stories is personal and compelling, and simultaneously gives a sense of the powerful history and legacy of the Jewish people.
The Mizel Museum is a portal to the contemporary Jewish experience. Its exhibits, events and educational programs inspire people of all ages and backgrounds to celebrate diversity. Fine art, film, literature, drama, music, sculpture and technology offer interactive experiences that promote community, understanding and multiculturalism. The Museum's first permanent exhibit, 4,000 Road Trip: Gathering Sparks, opened in January 2011. The exhibit is a dynamic journey through art, artifacts and digital media that narrates and illuminates Jewish history and culture.
RSVP for information about Generations: Survivor Stories Opening Night visit http://www.mizelmuseum.org or call (303) 749-5019.