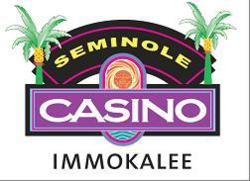 "Seminole Casino Immokalee's Balloons Over Paradise will be a fantastic event for all," said Mike Reagan, CEO of the Greater Naples Chamber of Commerce.
Immokalee, Florida (PRWEB) April 03, 2012
Seminole Casino Immokalee will bring its inaugural "Balloons Over Paradise" Festival to Immokalee Regional Airport on April 14-15, starting at 6 a.m. daily. This celebration of flight will feature 30 custom hot air balloons, live music by Grammy-nominated country singer John Anderson, award-winning food trucks, children's activities, carnival games, artisan villages, demonstrations by agility dogs and more. The Immokalee Regional Airport is located at 165 Airpark Blvd. in Immokalee. Admission to the event is free.
"Seminole Casino Immokalee's Balloons Over Paradise will be a fantastic event for all," said Mike Reagan, CEO of the Greater Naples Chamber of Commerce. "This is a great opportunity for all members of the family to see the extraordinary beauty of Southwest Florida."
The colorful balloons will kick off each morning at 6 a.m. with an illuminated light show to the music of Drum 'n' Strings, a string quartet with a rock and jazz drummer. Festival-goers will be able to walk among the balloons as they inflate for a mass ascension into the skies and remain in air for several hours. Specialty balloons include the Flying Purple People Eater, a jolly monster with long legs and neon claws; Ham-Let, the world's largest flying pig; and Miss Daisy, a flower that winks. Unfortunately balloon rides are not available this year.
Attendees will enjoy a great line-up of activities, all to the sounds of Southwest Florida Big Band, Jazz Scholars and Gene Ferrari. Children will join in on the fun with storytelling, puppet shows, bounce houses and a climbing wall.
"We are honored to be part of this first-time event that is unlike anything else hosted in Collier County," said Karen Conley, President and CEO of Charity for Change. "The hot air balloon festival will give children the opportunity to learn about science, art, music and the thrilling sense of adventure that the pilots get when they fly."
Gourmet food trucks will also be on hand, serving Italian cuisine, delectable cupcakes, Korean fusion, South American-inspired entrees and more. Food trucks include Ciao, Fat Tortillas, Grill Master Café, Miami Spice Grill, Nosh Truck, Dolce Cupcakes, Kona Ice and Bite Gastrotruck, known for its award-winning hamburgers. Attendees will also enjoy funnel cakes, BBQ, cotton candy and other treats from area vendors.
On Saturday, April 14, from 6 a.m. to 9 p.m., attendees will also enjoy the Harvest festival parade and the crowning of the Harvest Queen. Musical entertainment includes performances by country singer JJ McCoy and blues and R&B group Nouveaux Honkies. At 6:45 p.m., country star John Anderson will perform among the glow of these astonishing balloons.
The balloon festival will continue on April 15, from 6 a.m. to 4 p.m., with musical entertainment and other activities. At 2 p.m., ASCAP award-winning singer Kathy Kosins will perform jazz classics.
Parking is $5. Umbrellas and coolers are not permitted.
For the "Balloons Over Paradise" schedule, visit http://www.seminolecasinoevents.com .
About Seminole Casino Immokalee
Open 24/7, 365 days a year, Seminole Casino Immokalee is Southwest Florida's premier gaming destination, with 1200 Las Vegas-style slots, from high-paying progressives, video poker and the industry's newest titles like Tarzan, Betty Boop, and The Hangover, themed for the hit movie. The 75,000-square-foot plus casino offers 34 live tables games, including Blackjack, Mini-Baccarat, Pai Gow, Let It Ride, Three Card Poker, Texas Hold 'em, Texas Hold 'em Bonus, Blackjack Switch, Spanish 21, and Casino War. It is also contains the Zig Zag Blackjack pit, where the Zig Zag Girlz play. The new Paradise Room is a high-stakes gaming parlor with Blackjack and Mini-Baccarat pit and a separate area for high limit slot machine play. The new WPT Poker Room has both limit and non-limit games. No limit Texas Hold 'em poker tournaments are held Wednesday through Sunday. Bonus Hand and High Hand of the Day are also featured. Seminole Casino Immokalee participates in the Seminole Players Club Wild Card Rewards Program whereby players earn and redeem points at all Seminole Casinos throughout Florida.
Dining options include 1st Street Deli, Southwest Florida's only authentic New York-style delicatessen. This award-winning restaurant is open 24 hours, serving late-night breakfast, lunch and dinner. The EE-TO-LEET-KE ("The Camp") Grill serves the best and freshest dishes in Southwest Florida, including its signature authentic Seminole fry bread and fresh-from-scratch classic favorites. The Zig Zag lounge, home of the Zig Zag Girlz, is "where the party never ends" with nightly live entertainment and no last call. Two, 42-inch HD televisions and a 103-inch screen at the Zig Zag bar air sporting events and other entertainment. A 10,000-square-foot Event Pavilion seating up to 800 guests is for large entertainment events, such as concerts, weddings, banquets, company outings and privately-held dances. With 1800 parking spaces, there's always more than enough parking available at Seminole Casino Immokalee.
Seminole Casino Immokalee is easily accessible to all of Southwest Florida via I-75, and Southwest Florida International Airport is only a 45-minute drive from the casino. Located between Miami and Naples, north of Alligator Alley on Highway 846, it's five blocks south of Highway 29. Approximately 30 minutes from Naples and Fort Myers, the casino is a 90-minute drive from Miami and Fort Lauderdale. For directions or other information call toll-free (800) 218-0007; fax (239) 658-0204 or write: 506 South 1st Street, Immokalee, Florida 34142; http://www.seminoleimmokaleecasino.com.
About Charity for Change
Launched in 2008, Charity for Change's School "Giver" Program is a character-building initiative for elementary schoolchildren that emphasizes a charity theme and supports anti-bullying efforts in the schools. Children learn about and support 72 charities throughout the school year while practicing 19 character traits such as cooperation, responsibility and tolerance. Since the program's inception, they have donated more than $60,000 from their allowances, tooth fairy money and other spare change while becoming engaged and interested in the services provided the non-profit community. Currently, the program is offered at Calusa Park, Golden Terrace, Lake Park and Lely elementary schools and at Royal Palm Academy. Charity for Change is a Florida-based 501(c)(3) not-for-profit public charity supported solely by individual, corporate and foundation donations and is provided to teachers and schools at no cost. Learn more about http://www.charityforchange.org and facebook.com/charity4change.