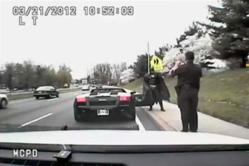 Baltimore, MD (PRWEB) April 02, 2012
The Hope for Henry Foundation hosts its Superhero Celebration for children fighting cancer and other life-threatening illnesses at The Herman & Walter Samuelson Children's Hospital at Sinai in Baltimore, MD on April 4. The event will feature visits from Lenny B. Robinson, a.k.a. Lamborghini Batman in his Batmobile, as well as Spiderman and Wonder Woman; caricaturists who will draw pictures of the kids as the superheroes they are; a photo booth where kids can take pictures with their favorite heroes and villains; specially-made Batman-themed treats from Georgetown Cupcakes and more.
WHAT:
Hope for Henry Superhero Celebration featuring the Lamborghini Batman, Lenny Robinson
WHEN:
April 4, 2012
12:00 – 2:00 p.m.
WHERE:
The Herman & Walter Samuelson Children's Hospital at Sinai
Sinai Hospital of Baltimore
2401 W. Belvedere Ave.
Baltimore, MD 21215
CONTACT:
Betsy Haley, Sinai Hospital of Baltimore
bhaley(at)lifebridgehealth(dot)org
410.601.5529
Allen Goldberg
Hope for Henry Foundation
allen(at)hopeforhenry(dot)org
202.368.4670
**RSVP Requested by April 3, at 5 pm bhaley(at)lifebridgehealth(dot)org or 410.601.5022**
About Hope for Henry
Hope for Henry Foundation (HFH) improves the lives of children with cancer and other serious illnesses by providing carefully-chosen gifts, like iPads, and specially-designed programs, like in-hospital birthday parties, to entertain and promote comfort, care, and recovery. To date, Hope for Henry Foundation has served more than 5,500 children at hospitals primarily in the Washington, DC area.
Hope for Henry brings smiles and laughter, hope and magic into the lives of these children and their families. The organization was founded almost 10 years ago to honor the legacy of Henry Strongin Goldberg, who died at age seven of a rare, fatal disease. Henry's struggles were featured in a New York Time Magazine cover story in 2001, and more recently chronicled in a best-selling memoir, Saving Henry, penned by Henry's mother and executive director of Hope for Henry, Laurie Strongin.