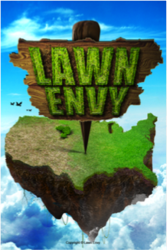 (PRWEB) April 03, 2012
This new application will assist anyone who has a green thumb, or those that lack the necessary skills to achieve beautiful lawns. This is the app for the average homeowner or any lawn industry professional.
This iPhone/iPad application serves as a brochure that provides information regarding the seeding and maintenance of lawns in the US. It provides information for all regions of the US, including the best remedies for the problems that could arise in each region. Lawn Envy is extremely innovative and user friendly.
The idea came from an industry professional, Brian Young, who has maintained thousands of lawns in his 12 years working in the field. There is no problem he hasn't seen. The Lawn Envy app includes menu items for easy navigation to fix and maintain any lawn.

Issues- A categorized list of lawn issues to choose.
Tips and Tricks- Enter a related keyword and matching tips will be listed
Calendar- Organizes scheduled events and reminders can be set
Seeding- Shows map of the best times to seed and best seeds to use in each region
How To- Information of proper fertilization and seeding techniques
Ask Expert- Post questions for additional assistance
All of the resources are right here in the app for users to have all of their lawn care questions answered. However, if there is no result listed for the problem; don't hesitate to post the problem/question to an expert in the Expert Forum.
Lawn Envy was developed by the one of the world's largest mobile app developers, Zco Corporation. Lawn Envy is available in the iTunes App Store for $1.99. Download today to have the best lawn in the neighborhood!