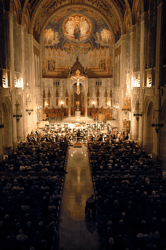 Sanderling joins celebrated company in the receipt of the Bruckner Medal.
Toledo, OH (PRWEB) April 09, 2012
The Toledo Symphony Orchestra (TSO) presents Bruckner's Symphony No. 3 in D Minor in Rosary Cathedral on Sunday, April 15 at 4PM.
The beloved 8-year tradition of Bruckner at the Cathedral is made doubly special this year, as Stefan Sanderling will be awarded the Joseph Kilenyi Medal of Honor by the Bruckner Society of America.
The award is made to those musicians who demonstrate extraordinary work in furthering the understanding and appreciation of Anton Bruckner.
Sanderling joins celebrated company in the receipt of the Bruckner Medal. The Bruckner Society of America has been in existence since 1931, and Medals of Honor have been given to such individuals as Bruno Walter, Arturo Toscanini, and Otto Klemperer.
All tickets to the presentation of Bruckner's Symphony No. 3 in the cathedral are general admission and $35. Student rush tickets are $5 and can be purchased one hour before the performance. HealthCare Reit is the proud sponsor for the Mozart and More Series. This concert will be held in memory of Lene Bauer, and Kurt Sanderling.
For more information, call 419-246-8000 or go on-line at http://www.toledosymphony.com.
Stefan Sanderling
Principal conductor Stefan Sanderling (Caroline Jobst Reinmann Chair) has swiftly emerged as one of the leading German conductors of his generation. Since the beginning of the 2003/04 season, he has simultaneously occupied the positions of music director of the Florida Orchestra and principal conductor and artistic advisor of the Toledo Symphony Orchestra. In 2007, he was appointed music director of the Chautauqua Symphony Orchestra, a position he held through 2010.
During the Toledo Symphony's debut performance at Carnegie Hall in 2011, Mr. Sanderling was heralded as a "gifted conductor" having "conducted a brilliant performance" of Shostakovich, according to New York Times reviewer James Oestreich.
Mr. Sanderling made his U.S. debut at the 1989 Tanglewood Music Festival. Since then he has led such prestigious North American orchestras as the Baltimore Symphony, Colorado Symphony, Detroit Symphony, Houston Symphony, Indianapolis Symphony, Los Angeles Philharmonic, Montreal Symphony, Ottawa Symphony, Saint Louis Symphony, Salt Lake City Symphony, San Francisco Symphony, Toronto Symphony, Vancouver Symphony, and the Saint Paul Chamber Orchestra, to name a few.
Born in East Berlin in 1964, the son of legendary conductor Kurt Sanderling, Mr. Sanderling studied musicology at the University of Halle and conducting at the conservatory in Leipzig before leaving East Germany to continue his studies in Los Angeles at the University of Southern California. After the fall of the Iron Curtain, he returned to Germany where his career ascended rapidly. As one of the country's youngest chief conductors, Mr. Sanderling first held this position at the Brandenburgische Philharmonie and the Potsdam Opera in 1990. After five years, he then went on to become music director and chief conductor of the Philharmonic Orchestra and Staatsheater in Mainz until 2001. Between 1997 and 2004, he also served as music director or the Orchestre de Bretagne in France.
Worldwide guest conducting appearances include the Bamberg Symphony, Berliner Sinfonie Orchester, Berliner Staatskapelle, Bournemouth Symphony, London Philharmonic, London Symphony, Mozarteum Orchestra (Salzburg), NDR Symphony Orchestra Hamburg, NTO (Vienna), Philharmonia Orchestra London, Prague Symphony, Rotterdam Philharmonic, Royal Philharmonic London, Scottish Chamber Orchestra, St. Petersburg Philharmonic, Staatskapelle Dresden, and the Vienna Radio Symphony. Mr. Sanderling has also guest conducted at both the Deutsche Oper and Komische Oper in Berlin. He made debuts in Australia with the Sydney Symphony Orchestra and in Japan with the Yomiuri Nippon Symphony Orchestra.
Also an active recording artist, Stefan Sanderling made his first recording on the Sony Classics label with the London Symphony Orchestra. Three CDs with the Royal Philharmonic Orchestra have recently been released featuring symphonies by Haydn and Mendelssohn. For Naxos, he has recorded the complete Tchaikovsky Orchestral Suites and Stravinsky's ballet Pulcinella, as well as a recently-released disc of the tone poems and symphonies of Honegger.