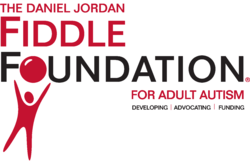 An Autism diagnosis can be devastating, but if we allow ourselves to tap into the joyful moments and embrace them gratefully they can be a vital source of strength.
Ridgewood, NJ (PRWEB) April 04, 2012
Just in time for Autism Awareness Month, a new blog entitled "Autism for a Lifetime: Finding Joy in the Journey" offers inspiration and information for adults living with Autism Spectrum Disorders (ASD).
Linda Walder Fiddle, the blog's creator, has lived in the world of Autism for over two decades, first as the parent of a child diagnosed with Autism Spectrum Disorder and later, after her son's untimely death at age nine, as the Founder and Executive Director of The Daniel Jordan Fiddle Foundation, a national Autism organization that has opened doors for adults living with Autism Spectrum Disorders (ASD). 
Nationally renowned by the Autism community, national leaders, and the media as an inspirational and compassionate visionary, Walder Fiddle launched "Autism for a Lifetime" in order to share her positive insights and approach to life and to offer support and encouragement not only for those living with the challenges of Autism, but for everyone.
Says Linda, "The road of life is challenging and complex, but if we can tap into the joyful moments and embrace them gratefully they can be a vital source of strength."
"Autism for a Lifetime" presents Linda's creative and unconventional approach to life's challenges and includes articles by guest contributors, including individuals on the Autism spectrum as well as parents, advocates, legislators, and experts in the field. The blog also will feature some of The Daniel Jordan Fiddle Foundation Signature Programs that Walder Fiddle hopes will inspire others to create similar opportunities in their communities.
Says Walder Fiddle, "What you will discover in my 'Autism for a Lifetime' blog is that the journey of Autism provides an opportunity to look at life through a different lens and in doing so to experience unexpected joy in life and strengths you never knew you possessed." 
Walder Fiddle was honored in March at U.S. Senator Robert Menendez's Third Annual Women of Distinction event in celebration of Women's History Month.  She was one of six inspiring women to be awarded the "Evangelina Menendez Trailblazer Award," named in honor of the Senator's late mother who blazed a trail to the United States from her native Cuba and was a role model of courage and strength.
Linda Walder Fiddle is a pioneer, activist, advocate, and champion for adults living with autism and the Autism community of parents, organizations and providers who support them. The DJF Foundation is all-volunteer run, and its mission is to develop, advocate for, and fund programs that create innovative ways for the diverse population of adults living with Autism Spectrum Disorders (ASD) to participate in and contribute to community life. 
Recognized as a "social entrepreneur," Linda has innovated a wide range of initiatives that enhance the lives of people on the spectrum and that foster global awareness.  The vision of the DJF Foundation is for all adults on the spectrum to have opportunities that honor their individuality. This is the goal Linda had for her own son Danny who passed away at age nine and in whose memory The Daniel Jordan Fiddle Foundation is named.
Linda has received numerous honors for her accomplishments on behalf of the Autism community, including Redbook magazine's "Strength & Spirit" Award, which honors the most inspirational women in the United States. She has been recognized before the New Jersey legislature for her humanitarian efforts that "exemplify a standard of excellence towards which others should strive." In September 2011, Linda received the "Seeds of Hope" award for her leadership in the field of autism and was featured in New Jersey Monthly Magazine's September, 2011 issue.
Walder Fiddle is currently a member of the national Board of Directors of the Autism Society and is a founder of Advancing Futures for Adults with Autism, a national consortium of autism organizations focusing on adult issues.