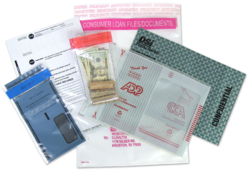 "We are very excited to get more exposure on our SecureJacket line. This product category requires some very special manufacturing attention, and our processes here at PAC allow us to offer the best solution in the market."–Steve Foster, VP Sales
Redmond, WA (PRWEB) April 04, 2012
The newest "Let's Talk Packaging" series has just been released. In this episode adventurous host, Erin Smith, tries her best to break into the ultra-secure and tamper-evident Securejacket by PAC Worldwide. From a chisel, to a blow torch, to C-4, she'll try anything to get the cash out of that Securejacket!
They also demonstrate how an individual trying to break into the Securejacket cannot get past the protective void seal without visible tamper evidence using methods ranging from extreme heat and cold temperatures, industrial solvents, to liquid soap.
The Securejacket is a tamper-evident poly security bag custom-built to meet all of your security needs. Industries include financial institutions, armored car carriers, check processors, gaming and national retail store chains. Ideal for shipping and depositing cash, receipts, checks, coins and valuable documents.
About PAC Worldwide Corporation
PAC Worldwide, an industry leader and manufacturer of protective flexible packaging, has built their business up since 1975 based on outstanding service and quality products. This international company specializes in custom branded and stock mailers (bubble, flat poly, paperboard), industrial and retail bubble, security bags, folding cartons and automated bags. They also offer a full line of fulfillment services as well as automated packaging systems for high speed applications.