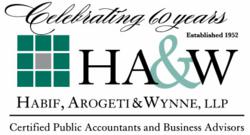 Atlanta, GA (PRWEB) April 03, 2012
Habif, Arogeti & Wynne, LLP, Georgia's largest independent accounting firm, announced today the results of a survey conducted during the 100th Annual Hinman Dental Conference. The survey suggests that dental professionals are more optimistic today about their growth opportunities than they were a year ago, while the greatest challenge facing respondents in 2012 is marketing.
Times have been, and continue to be, tough for dental professionals as they face ever-changing Federal regulations, decreasing reimbursements and uncertainty of what the future holds, yet 91 percent of HA&W's survey respondents indicated that they are more optimistic about growth today than they were just one year ago.
A variety of difficulties and challenges will continue to exist for those in the dental profession, but more than anything respondents were challenged by how to better market their practice, as 44 percent of survey respondents noted that marketing is their biggest challenge in 2012. In today's world dentists must continually fight competing practices who advertise on online couponing websites, such as Groupon, offering teeth whitening and dental visits for minimal costs, with little to no profit. Other challenges noted by the survey respondents include:

Losing patients (16 percent)
Rising cost of health insurance (36 percent)
Limited access to financing (4 percent)
Employee retention was not considered a challenge for responding professionals.
With these findings it is no surprise that dental professionals plan to most often invest in marketing during the next 12 months, receiving 62 percent of responses. Other areas of investment for the next 12 months include:

Hiring an associate (8 percent)
Opening a satellite office (12 percent)
Implementing an electronic health record system (19 percent)
"Today dentists are looking for a return on their investments, but they are hesitant to take the plunge without seeing an overall improvement in the local economy," said Rick Rubin, partner at HA&W and leader of the professional services group. "This is consistent with what I've seen with my clients over the past year."
Participating in the paper-based survey were 38 dentists, hygienists, assistants and office staff who attended the annual conference. These dental professionals represented small to mid-sized dental practices with annual revenues ranging from $1 to $2,500,000.
About Habif, Arogeti & Wynne, LLP:
Habif, Arogeti & Wynne, LLP is the largest independent accounting and business advisory firm headquartered in Georgia, and one of the top 50 firms in the United States. The firm's more than 300 professionals provide financial solutions – including accounting, auditing and tax services, forensic and litigation services, management consulting, financial planning, technology consulting and financial staffing – to more than 15,000 clients in a variety of industries. HA&W serves its expanding list of international clients through its membership in Baker Tilly International, an association of leading independent accounting firms worldwide. HA&W Wealth Management and HA&W Benefit Advisors are both subsidiaries of HA&W. For more information on HA&W, visit http://www.hawcpa.com.