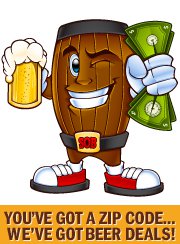 The cheapest beer doesn't have to taste like paint thinner and soggy cereal!
Houston, TX (PRWEB) April 05, 2012
Dyngus Day is a Polish-American tradition celebrated on the Monday after Easter. Though not widely celebrated nationwide, it's a much-anticipated post-Lenten bash in places like Buffalo, Chicago, Pittsburgh and South Bend. Customarily, men douse women in water, while women hit the men with pussywillow branches. Polka bands play, while couples dance. People eat kielbasas, pierogies and golombkis. Beer drinking is definitely a big part of this tradition too, which is why beer price tracker SaveOnBrew.com decided to get involved.
"Look, I'm clearly not Polish," says site Co-Founder Greg Thibodeaux, "but that doesn't mean I don't love a good excuse to get my drink on! I don't even know how to pronounce 'Zwiec' properly, but I can tell you the most inexpensive place to find it in your zip code."
SaveOnBrew.com is an essential tool for partiers who plan to buy beer for Dyngus Day. This new website, which is also available for smart phones, tracks the prices of beer nationwide, with 200,000 – 300,000 deals listed on any given day and over 50,000 vendors tracked. New beer brands are added by the day, Thibodeaux says, and their latest addition includes Tyskie, Zwiec and Okocim.
Polish beers, by nature, are brewed with balance in mind. Unlike American microbrews -- which often infuse complex flavors like fruit aromas, honey, or toffee – Polish beers have a soft grainy / grassy taste that finishes smooth for an all-around great beer after a hard day's work. Generally, the Polish import beers found in America are light varieties.

Tyskie Polish beer (pronounced Tisk-YEAH) is an award-winning beer that dates back to 1629. It comes with a delicate aroma, light golden color and thick white head. This Polish beer appeals to people who like the clean taste and light body of Lagers.
Zwiec (pronounced ZSHIV-yets) is another lager-style Polish beer that some people say tastes like "bread pudding" or "banana and sweetbread." This beer appeals to people who like Miller and Bud, but also to import beer enthusiasts.
Okocim Polish beer (pronounced OH-ko-cheem) is listed as "malt liquor" on some labels, due to its 7.5% ABV and U.S. regulations. Drinkers describe it as a pale Polish pilsner, which would appeal to anyone who likes a lighter malted barley taste without too much hops or aftertaste.
Anyone who would like to know the prices of beer in their area can visit SaveOnBrew, click the "I'm 21… Let Me In" button, enter their zip code, and get the best beer prices in their area. Searches can be narrowed down by brand, store, quantity and other variables. While thirsty beer drinkers are perusing the site, they can also read the wildly entertaining and controversial posts on the Cheap Beer Blog.
"The cheapest beer doesn't have to taste like paint thinner and soggy cereal," Thibodeaux explains. "You can find great deals on festive import beers like Tyskie, Okicim and Zwiec at SaveOnBrew.com."
About SaveOnBrew.Com: Founded in 2010 to help thirsty beer drinkers across the United States find the lowest advertised prices for one of the world's most popular beverages.