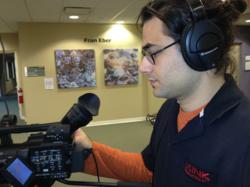 Meet our patients, hear their stories in their very own words. These are, "Patient Profiles with Summit Medical Group"
Livingston, NJ (PRWEB) April 02, 2012
"Patient Profiles with Summit Medical Group," a new video series from Summit Medical Group, and produced by M.INK Productions®, debuts today on its Summit Medical Group website and its Summit Medical Group YouTube Channel. The under 4-minute videos highlight Summit Medical Group patients sharing their stories in their very own words to inspire and encourage others.
The premiere video features Debbie Woodbury, a breast cancer survivor who underwent breast reconstructive surgery with Peter Hyans, M.D., plastic surgeon at Summit Medical Group. In her own words, Debbie tells her story of this critical time in her life. Debbie is the founder of Where We Go Now, a community of people who have survived the cancer experience and lived to find a new life of resilience, focus and courage.
Tune in to "Patient Profiles with Summit Medical Group", starting Monday April 2nd, at summitmedicalgroup.com and youtube.com/user/SMGNJ
About M.INK Productions
M.INK Productions® LLC is an award winning content creation organization for the digital age. With creativity and innovation, M.INK Productions helps companies (small, mid-size or large) take a quantum leap forward, or simply keep competitive, by creating Web Originals that supports their brand, educates and engages current customers, attracts new ones, and/or increases revenue. Video is one of the most powerful tools for branding, reaching customers and strengthening social media presence. M.INK Productions helps clients of all sizes meet their video needs for marketing, PR, social media and more, by consulting, training, providing on-camera and voice-over talent and creating high quality, original content - presenting and communicating their message to sponsors, investors, customers and employees. M.INK Productions is also the creator of successful web original business news show, IFV News, IFVNews.com. Our sister company StringStream Media creates original music and sound design for M.INK Productions and other companies. For more information, visit minkproductions.tv.
About Summit Medical Group
Summit Medical Group is the largest privately held multispecialty medical practice in New Jersey. Summit Medical Group has pioneered information technology advances in health care with its early adoption of electronic health records and e-prescribing. With more than 270 highly qualified healthcare providers, it is one of the most unique health care models in the state. Summit Medical Group has an award-winning customer service program and NJBiz magazine has named it one of New Jersey's "Fifty Fastest Growing Companies". Summit Medical Group treats more than 55,000 patients per month at its main campus in Berkeley Heights, as well as its satellites in Berkeley Heights, Morristown, Millburn, Short Hills, Springfield, New Providence, Warren, and Westfield. As one of the East Coast's premier multispecialty groups, Summit Medical Group has provided exceptional primary and specialty care since 1929. For more information, summitmedicalgroup.com.