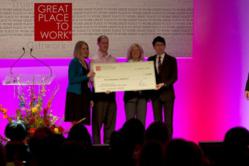 We are so honored that our video was selected the favorite amongst such a talented group of companies that also make their employees and workplace culture a priority.
Wilmington, Del. (PRWEB) April 03, 2012
Appletree Answers recently entered the 'We Love Our Workplace' Video contest hosted by Great Place to Work® Institute. Appletree Answer's video was selected the winner out of more than 100 video entries.
Great Place To Work® Institute picked the top 10 video finalists and these video submissions were showcased at the 2012 Great Place to Work® Conference in Atlanta, GA, March 28-29. The competition was impressive with other top 10 video finalists including global and Fortune companies such as Conagra, Mattel, Mayo Clinic, SAS, and Wegmans.
As the winner, Appletree Answers will receive $5,000 to donate to a charity of their choice. Appletree Answers has chosen Make-A-Wish® Mid-Atlantic.
"We are so honored that our video was selected the favorite amongst such a talented group of companies that also make their employees and workplace culture a priority," says John Ratliff, CEO and founder of Appletree Answers. "We have won awards in the past based on Appletree Answer's revenue or growth numbers, but this recognition is a true measure of success for our company."
Appletree Answers currently employs more than 600 individuals across 22 locations and has built the foundation of their company culture on an employee-focused mentality and loyalty to their core values. This focus shines through in Appletree Answer's Dream On program, an internal program that mirrors Make-A-Wish charity but for Appletree Answer employees. To date, Appletree Answers has granted more than 100 Dream On submissions including a trip to Disney World for one Appletree family and a dream honeymoon vacation for another.
"We've created a culture where our employees come first," says Emily Ratliff, director of employee experience. "Our employees recognize our sincere concern for creating a positive and rewarding work environment. This mentality is often hard to explain in words but we were able to express it through our video."
Click here to watch Appletree Answer's 'We Love Our Workplace' video.
About Great Place to Work®
Great Place to Work® is the only global consulting and training firm specialized in what makes workplaces exceptional. Built on 25 years of research, the Trust Index© Survey is taken by over 10 million employees across 40 countries every year. Leaders worldwide apply the Great Place to Work® Model to increase trust across their organizations and drive business results.
Great Place to Work® provides leadership coaching and culture consulting services to businesses, non-profits and government agencies in 45 countries on all six continents. In the United States, Great Place to Work® produces the annual FORTUNE 100 Best Companies to Work For® list and Great Place to Work® Best Small & Medium Workplaces list published by Entrepreneur.com. http://www.greatplacetowork.com
About Appletree Answers
Appletree Answers is committed to providing an integrated communications center for inbound and outbound calls, emails, faxes and chats. Delivered through a state-of-the-art infrastructure, the company's service gives business owners and employees a 24/7 messaging center. With dedicated teams and 22 offices around the United States and Puerto Rico, Appletree Answers delivers a powerful and compassionate customer service experience that is derived from a positive employee experience and culture. Based in Wilmington, Delaware, Appletree Answers is a consistent winner of business awards and recognition. Learn more at http://www.appletreeanswers.com.