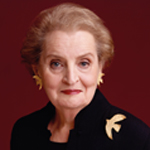 St. Louis, MO (PRWEB) April 02, 2012
The St. Louis County Library Foundation's 'Buzz' Westfall Favorite Author Series is pleased to present a special fundraiser with former Secretary of State Madeleine Albright for a discussion and signing of her new memoir "Prague Winter: A Personal Story of Remembrance and War, 1937-1948." Proceeds from the event will benefit the Library Foundation and the Genealogy Collection.
The event will take place at Library Headquarters (1640 S. Lindbergh Blvd.) on Saturday, May 5 at 7:00 p.m. Ticket packages are $55 and include admission for two and a copy of "Prague Winter." Additional books will be available for purchase from Left Bank Books. The format of the evening will be an onstage interview with St. Louis Public Radio's Don Marsh. Sec. Albright will sign books following the interview.
In "Prague Winter," Madeleine Albright presents a thoughtful memoir of her formative years in Czechoslovakia during the tumult of Nazi occupation, World War II, and the onset of the Cold War. An intensely personal journey into the past that offers vital lessons for the future, "Prague Winter" combines the intimacy of an autobiography with the drama of an exciting and well-told story--all underpinned by the gravity and intelligence of a serious work of history. The result is an incisive work filled with tragedy and triumph and informed by Albright's remarkable life experience and characteristic candor.
Madeleine Albright was the 64th Secretary of State of the United States and the first woman to hold that position. During her tenure, Sec. Albright was known for her strong commitment to arms control, human rights and peace. She played a lead role in forging America's successful response to terror and ethnic cleansing in Kosovo, and was a forceful advocate of bringing war criminals to justice. Since leaving office, Dr. Albright has authored three New York Times bestsellers: "Madame Secretary: A Memoir," "The Mighty and the Almighty: Reflections on America, God, and World Affairs," and "Memo to the President: How We Can Restore America's Reputation and Leadership."
The program with Madeleine Albright is a St. Louis County Library 'Buzz' Westfall Favorite Author Series presentation. The Westfall series features authors of politics, history, and sports. The series is co-sponsored by Jack Dubinsky and Sons; McMahon Berger; Sachs Properties; Brown Smith Wallace LLC; Royal Banks of Missouri; St. Louis Business Journal; Midwest Library Service; The Booksource; Ivey-Selkirk Auctioneers; S.M. Wilson & Co.; Arthur J. Gallagher and Co.; and Stifel, Nicolaus.
Program sites are accessible. Upon two weeks notice, accommodations will be made for persons with disabilities. Contact St. Louis County Library by phone 314-994-3300 or visit http://www.slcl.org.