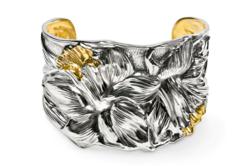 "This extraordinary sterling cuff is both on-trend and timelessly tasteful."
Baltimore, MD (PRWEB) April 05, 2012
In fashion, silver cuff bracelets and iris motifs are hot. Now, Galmer Fine Silver has created a new sterling repousse' cuff which is both on-trend and timelessly tasteful. As the latest addition to the American Estate Jewelry collection, "The Wild Iris Cuff" ($725) features sterling irises entwined and touched with 24K gold. The cuff is available through stores including Tiny Jewel Box, DC, Works Gallery, NYC, DeScenza Diamonds, Boston, and Radcliffe Jewelers, Baltimore and through the American Estate Jewelry web site: theforevercuff.com.
The Wild Iris Cuff celebrates the signature skyward stretch of the Iris flower as well as the strappy effect of its distinctive stalks at the bracelet's edges and ends. As usual, the inside of the Galmer cuff --clad in 24K gold-- is as beautifully sculptural as the bracelet's exterior -- with the workmanship in full evidence. Galmer's background of work for Tiffany & Co. over twenty years and for connoisseurs worldwide is a testament to its expertise. According to Sally Scheiner of Radcliffe Jewelers in Baltimore, "Our customers are captivated by the detailed workmanship of these cuff bracelets. They love acquiring true handcrafted works of art." Due to the handcrafting, The Wild Iris Cuff may have a waiting list when customers visit stores or American Estate Jewelry's online store.
The rare repousse' silver-making technique was popular in America at the turn of the century when silver companies such as Gorham and Kirk-Stieff were bustling manufacturers of sterling tableware with lavish floral surfaces. The repousse' technique involves placing top quality sterling silver on an intricate steel mold. The mold is pushed from the back (repousse') of the silver, and then the artisan hand-engraves the front. The result is a sculptural and extremely detailed work of art. Galmer has created its own tools and proprietary methods to facilitate the handcrafting process, yet each silver cuff is still a one by one production.
Iris flowers have recently become popular from fashion houses such as Givenchy and Dolce & Gabbana. New iris-based designer fragrances (including Prada Infusion D'Iris, Chanel 19 Poudre and Jo Malone limited edition "Iris & Lady Moore" Cologne) are considered elite due to the difficulty extracting the flower's soft distinctive scent and due to its legendary spiritual importance. On Iris Day, May 8, in Japan, people put iris leaves in their baths to ward off evil spirits. Considered medicinal, Iris juice is added to sake by Japanese tradition to prevent illness and promote a long life. Facebook friends of American Estate Jewelry have followed the creation of the new Iris Cuff, from sketches to molds, and they await The Wild Iris Cuff "reveal" eagerly.
American Estate Jewelry showcases the work of Galmer Fine Silver in glorious floral motifs of Chrysanthemum, Palm, Magnolia, Peony and more. The company was founded by Carolyn O'Keefe in honor of her mother Sally, a career woman and joyful mom who wore one stunning sterling cuff every day. Sally had inherited the estate cuff from her great grandmother and it became her signature. The company's silver cuffs are known as "forever cuffs" because women wear them every day, for all occasions and then -- because of their intrinsic value and important Galmer hallmark -- pass them on as valuable heirlooms to the next generation. Galmer's reputation is marked by its twenty-year history with Tiffany & Co. creating complex silver pieces, frequent work with Gorham Silver and special commissions for historical societies and museums.
American Estate Jewelry pays tribute to the American tradition of passing distinctive sterling jewelry from generation to generation. The name American Estate represents not only this family tradition but also America's silver-making tradition, preeminent in turn-of-the-century America. The collection is available through http://www.theforevercuff.com or http://www.americanestatejewelry.com.
CONTACT: Carolyn O'Keefe (410) 218-9500 carolyn(at)americanestatejewelry(dot)com