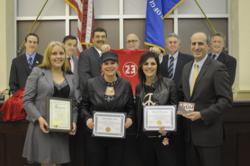 Glen Cove, NY (PRWEB) April 10, 2012
Antigone Rising, the all female country rock band, was honored by Glen Cove, NY Mayor Ralph Suozzi, Nassau County Legislator Delia De-Riggi-Whitton and the Glen Cove City Council for their recent work as U.S. State Deptment Arts Envoys, in Israel and the West Bank.
Sisters Cathy and Kristen Henderson, founding members of the Long Island based Antigone Rising and Glen Cove High School graduates, were on hand to receive the Certificates of Honor. Antigone Rising recently performed in Jerusalem, Tel Aviv, Ramallah and other regional towns and cities, leading workshops and performing concerts and making music with Israeli and Palestinian musicians of all ages and genders. Known for their signature style of soaring three-part harmonies, Kristen Henderson (bass/vocals), Cathy Henderson (lead guitar/vocals), Nini Camps (guitar/lead vocals), and Dena Tauriello (drums) entertained thousands of men, women, teens and children in the multi-ethnic and multi-religious mosaic that is the region of Israel.
Antigone Rising's latest CD, 23 Red, continues to turn heads and gain popularity with their strong songs, beautiful harmonies and live performances. The band has opened for such groups as The Rolling Stones, Aerosmith, Rob Thomas, Joan Jett and The Blackhearts, The Allman Brothers, and The Bangles.