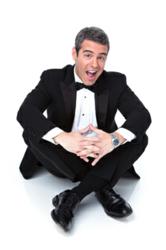 St. Louis, MO (PRWEB) April 04, 2012
The St. Louis County Library Foundation is pleased to present St. Louis native and reality television mastermind Andy Cohen for a discussion and signing of his memoir "Most Talkative: Stories from the Front Lines of Pop Culture" on Friday, May 11, at 7:00 p.m. at Library Headquarters, 1640 S. Lindbergh Blvd.
The program is free and open to the public. Books will be available for purchase at the event from Left Bank Books.
Andy Cohen is the Executive Vice President of Original Programming and Development at Bravo, responsible for overseeing the development and production of such hits as Top Chef, The Real Housewives franchises, and The Millionaire Matchmaker. He is also host and executive producer of Bravo's late night talk show, Watch What Happens: Live and hosts the networks Watch What Happens reunion specials.
"Most Talkative: Stories From the Front Lines of Pop Culture" is the real story of Andy Cohen's lifelong love affair with pop culture that brought him from the suburbs of St. Louis to hosting his own television show. In high school, Cohen was voted "Most Talkative" and knew two things for sure: he was gay, and he loved television. Now, in a book dripping with charm and fun, Cohen shares how he turned his passion for television into a career. The journey begins with Cohen interviewing his all-time idol Susan Lucci for his college newspaper and ends with him in a job where he has a hand in creating today's celebrity icons. In the witty, no-holds-barred style of his show Watch What Happens: Live, Cohen tells tales of absurd network mishaps, hilarious encounters with the heroines of his youth (like Oprah), and the real stories behind the Real Housewives. Chronicling his career as an intern and producer at CBS This Morning and 48 Hours to an executive at TRIO and Bravo to an on-air personality, Cohen gives readers a one-of-a-kind glimpse into the world of television.
Cohen also opens up about his hilarious coming-of-age stories in Manhattan. From his social engagements to his prankster friends to his incredible relationship with his mom, Cohen does not hold back. The writing, just like his personality is irresistible and "Most Talkative" will charm, surprise, and entertain readers.
Program sites are accessible. Upon two weeks notice, accommodations will be made for persons with disabilities. Contact St. Louis County Library by phone 314-994-3300 or visit http://www.slcl.org.