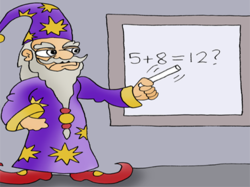 If students want perfect scores, they need to push themselves far beyond their limits; that's what the Math God series is intended to do.
New York, NY (PRWEB) April 03, 2012
Students looking for the most challenging ACT and SAT math problems possible might finally have more than they can handle. Test Prep Authority, a free online SAT and ACT resource center, has just launched a new series of "Math God" problems, aimed specifically at students looking for the most difficult imaginable level of math prep.
"Once students have taken about 10 practice SATs or ACTs, they've seen just about everything these tests have to offer," says Anthony-James Green, founder of Test Prep Authority and co-creator of the "Math God" concept. "Students with high scores - in the 650+ range - need something more challenging if they want to get to the 750-800 level. With that in mind, we've purposely designed the Math God series to frustrate the heck out of anyone performing at an extremely high level on these tests."
The SAT and ACT are scored on a curve - as one's score improves, it becomes more and more difficult to improve one's score even further. "I can take someone's score from a 400 to a 600 much more easily than I can take someone's score from a 700 to an 800," says Green regarding the tutoring process. "If students want to jump that gap, they need to push themselves far beyond their comfort zone."
The "Math God" series, courtesy of Test Prep Authority, is a series of math problems intentionally designed to be as difficult as possible. By forcing students to use multiple mathematical concepts at once, and to decipher the (intentionally perplexing) order of these problems, Test Prep Authority aims to create students much more capable of handling the simpler problems on the actual SAT and ACT.
One of the most recent problems in the series read as follows:
#1. What's the area of a square, in square inches, that has the same diagonal length, in inches, of the diameter of a circle that has a circumference, in inches, equal to Pi times the highest possible amount of dollars that a man could have if he and his four friends had, on average, 80 dollars, if no two of his friends had the same amount of dollars, if he and his friends all had an even number of dollars, and if the least any one of his friends could have had was 40 dollars?
If this problem seems difficult, that's because it's meant to be. The Math God problems are designed to test as many aspects of the SAT math arsenal as possible. By forcing students to use disparate parts of their mathematical knowledge, and to combine these different disciplines into one line of thinking, they aim to improve the associations that students make between mathematical concepts and improve overall mathematical thinking.
Green outlined his logic behind the process: "If two people are running a marathon, who's going to do better: the guy who jogs 30 minutes twice a week, or the guy who runs 45 miles a day, 7 days a week? If someone wants the problems on the SAT or ACT to look easy, they need to work on the hardest problems they can find. We don't recommend these problems to everyone - they're only for very advanced students. But students who've exhausted the most difficult problems in their prep books and classroom curricula should take a look."
Test Prep Authority's Math God series is the first series aimed specifically at students looking for "fiendishly difficult" problems. Available for free through Test Prep Authority's mailing list and website, this series will run through the summer of 2012. Those who don't subscribe to the problems as they're released will have the option to purchase a collection of these problems, which will be published in Fall of 2012.
###