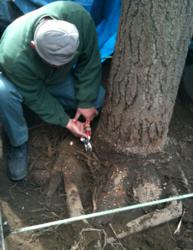 New York, N.Y (PRWEB) April 04, 2012
Working on trees in a city environment requires a unique skill set, particularly in the urban jungle of New York City where tree service tends toward the complex. Chris Busak, a certified arborist at Almstead Tree, Shrub & Lawn Care, works almost exclusively with these trees and understands the challenges all too well.
Almstead's projects come in all sizes – from a single backyard tree to larger-scale undertakings in Central Park, Governors Island and Riverside Park. Although space constraints are a nearly universal obstacle to trees in Manhattan, unique challenges also present themselves according to the tree's specific location. Whether for a rooftop garden, street tree, courtyard or backyard, hiring an experienced arbor care company is all the more critical in a city environment.
"There's often a number of things to deal with before tree work even begins," explained Busak. "City regulations and permits, permission from abutting property owners, communications to co-op boards and other decision makers are all very common. The work itself typically involves navigating tight spaces and requires special attention to the safety of nearby people and property."
Hidden atop a parking garage twenty feet above West 97th Street, the Lotus Garden is an established community garden that serves as a unique and beautiful urban oasis to the public and 28 gardeners who lovingly maintain it. A wide variety of flowering ornamental trees and shrubs decorate the 1/6-acre garden, which has been around since 1983.
Brought in last fall to perform structural and rejuvenation pruning on virtually all of the garden's oldest trees, Busak also implemented a specialized plant health care program. Many of the trees were stressed due to limited soil space and badly infested with wood-boring beetles, a family of insects that often prey on weak or damaged trees. Salts from the synthetic fertilizers previously used had depleted the population of valuable microorganisms in the soil and were beginning to compromise the trees' root systems. Using a hybrid approach more organic in nature, Busak and his team continue to nurture and improve the soil quality dramatically.
"We were very pleased with the timeliness, quality of workmanship, clean up and the obviously knowledgeable crew who, along with Chris, did an excellent job," said Rebecca Morrow from the Lotus Garden. "We are all excited to see the fruits of the pruning this spring and summer with a lighter tree canopy and fuller foliage on the lower parts of our trees. We very much appreciate Almstead's professionalism, expertise and commitment to excellent service."
Like a number of Almstead's urban clients, the Lotus Garden also requested vine work on one of their old Wisteria vines that hadn't shown flowers in decades. Busak and his team have improved the health of many vines throughout the city and have been successful in encouraging flowers when others had failed. This spring will show whether the Lotus Garden's Wisteria will bloom.
"It takes a special skill set to successfully work with vines," said Busak. "Each variety responds differently to the various pruning techniques and soil treatments typically incorporated. Many vines also react differently to the same maintenance depending on the season. The process is especially rewarding for an arborist able to correctly anticipate each response as the vine's rapid growth will quickly show the fruits of your efforts."
Many of Almstead's clients with private rooftop gardens struggle with space constraints. In the case of one garden on East 74th Street, there were a number of established trees showing signs of decline. With everything in pots planted a decade ago, the roots had outgrown their limited soil space and had long depleted the available nutrients. While some trees were beyond repair, Busak and his team saved those that they could and removed the ones that were too overgrown to prune without disfiguring.
Busak replanted a variety of Junipers and Arborvitaes along with a number of new flowering plants. He recommended ideal choices for the client, who was often away during the summer months and wished to enjoy flowers early in the spring or during fall and early winter. Forsythia, Witch-hazel, Sandcherrys and Cotoneasters complimented the newly planted trees, transforming the rooftop into a vibrant and beautiful living space. The team pruned the young trees for improved aesthetics and structure, reducing the risk of tree failure down the road by promoting a structurally sound trunk and branch architecture. Busak was even able to secure dwarfed fruiting peach trees that are perfect for a rooftop space.
"We started redesigning and replanting the garden last year and will continue with that effort this spring," noted Busak. "Significant improvements in the garden's health can already be seen, even in just one year's time." In addition to implementing an integrated pest management program to rid the rooftop garden of its insect problem, Busak also began a unique soil care regiment to strengthen the trees' root systems long-term.
Almstead's arborists are equipped to handle all the needs of a small garden – from planting and pruning to fertilization, mulching, insect problems and disease control. Busak often recommends clients consider an annual maintenance plan to ensure their garden's long-term health. With Almstead's plant health care monitoring program, trees and shrubs are inspected approximately every two weeks throughout the growing season. Property visits also include soil care and other prescribed treatments as well as on-the-spot insect and disease control.
The sidewalk trees lining East 78th Street between Lexington and Park Avenue were greatly in need of repair when Almstead was brought in two years ago by the local block association. The 60 year-old trees had been seasonally under-planted in the past with small shade-loving plants. Over time the soil raised to unhealthy levels, causing roots to grow directly from the trunks in heavy, dense masses that circled the base of trees. Left untreated, the trees would eventually be strangled as the flow of water and nutrients became even more choked off.
An essential tool in organic care, Busak utilized Air Spade technology to break up and remove the excess soil around the tree trunks using accelerated compressed air. The extensive root collar corrections were split between two annual visits to avoid damaging the trees by severing too many roots at once. In addition to pruning the trees' canopies to reestablish a healthy branch structure and overall balance, Busak also implemented organic compost tea treatments to infuse the depleted soil with vital organisms needed to combat the constant run-off water caused by the surrounding street cement.
"Urban trees require our attention to overcome the unusual constraints we've placed on them," said Busak. "With unnatural sunlight conditions from surrounding buildings, limited access to water, regular exposure to pollutants, and tight space for both roots and canopy, city trees don't often fare well on their own. It's absolutely essential to establish a healthy soil ecosystem capable of retaining water and nutrients."
In addition to serving Manhattan, Almstead also works in the Bronx, Queens and Brooklyn. Busak is always looking for a new urban challenge and offers consultations free of charge. To set up an on-site visit, call 800-427-1900.
About Almstead Tree, Shrub & Lawn Care
Distinguished by its full line of traditional and organic services, Almstead Tree, Shrub & Lawn Care is a family owned and operated business founded by Richard E. Almstead in 1964. Today sons Ken and Michael Almstead oversee many of the daily operations, caring for residential, commercial, municipal, and school properties throughout the greater New York-metropolitan region. Almstead offers a full range of services to properly care for trees, shrubs and lawns, emphasizing scouting and diagnostics to help prevent problems. Offices are located in Hawthorne and New Rochelle, N.Y., Stamford, Conn., and North Halendon, N.J. For more information or to request a free consultation, visit Almstead at http://almstead.com or call toll-free at 1-800-427-1900. You can also connect on Facebook or LinkedIn for the latest news, photos and promotions.
Press Contact:
Diana Costello
Co-Communications
914-666-0066
diana(at)cocommunications(dot)com