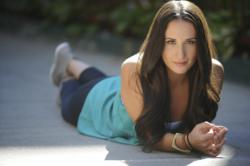 "My grandparents are survivors so I feel a very real responsibility to tell these stories. With the average age of survivors being 84, it's up to us, the young and energetic, to keep the memory alive."
New York, NY (PRWEB) April 03, 2012
With Holocaust Remembrance Day coming up on April 18th, Daniella Rabbani, actress and singer, steps into the role of a freedom fighter in commemoration. Ghetto Tango was created by the late Adrienne Cooper and Artistic Director of the National Yiddish Theater: Folksbiene, Zalmen Mlotek. Upon Adrienne's untimely death, Ms. Rabbani and Avram Mlotek were called on to fill Adrienne's giant shoes. Ghetto Tango played in Miami's Gable Stage to sold-out crowds and is now coming to Manhattan's Baruch Performing Arts Center's Engelman Recital Hall on April 17th at 7pm.
Rabbani says, "My grandparents are survivors so I feel a very real responsibility to tell these stories. With the average age of survivors being 84, it's up to us, the young and energetic, to keep the memory alive."
Ghetto Tango is a moving and inspirational concert that highlights the songs and music performed in the underground cabarets, which sprang up in the Jewish ghettoes in Nazi-occupied Europe.
Daniella Rabbani is a classically trained actress who believes that when people come together, we are capable of so much. Her unlikely appearance on the Yiddish stage has delighted critics and audiences. As a student at The Stella Adler Studio of Acting, Daniella was scouted to "carry on the legacy of the Adlers" (Stella was reared on the Yiddish stage, her father being a mega-star of his time.) Upon graduation, Daniella received a scholarship to study Yiddish at The Workmen's Circle. Although she never spoke the language, Daniella was "drawn to the sounds and spirit of Yiddish. The music is still as fun today as it ever was."
Since graduating NYU Tisch, Daniella's performances have been hailed by the critics as "Sympathetic and utterly alive" (NY Observer), "Hysterical" (Wall Street Journal), and "The living embodiment of this fun, often sensual music" (The Pittsburgh Post-Gazette). Her Off-Broadway credits include Gimpel the Fool and The Adventures of Hershele Ostropolyer (both with the Folksbiene) and the co-creator of Rachel and Leah composed by Elizabeth Swados at La MaMa E.T.C.
Ghetto Tango starring Daniella Rabbani, Zalmen Mlotek and Avram Mlotek. Tuesday, April 17 @ 7pm - Baruch Performing Arts Center - 55 Lexington Ave, NYC -Admission: $25; NYT-F members: $18- Box Office: 646-312-5073. In Yiddish with English supertitles. In loving memory of Adrienne Cooper.