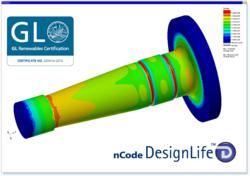 Customers will now be able to spend less time on how calculations are performed and more time on the actual engineering decisions required.
Southfield, MI (PRWEB) April 03, 2012
nCode, the leading brand of durability, test and analysis products offered by HBM, announced today that its software for CAE fatigue analysis, nCode DesignLife™, has been certified by GL Renewables Certification (GL RC). nCode DesignLife is the first software for structural integrity to be GL RC certified for the design of cast and forged structural machinery components in wind turbines.
nCode DesignLife is a powerful, off-the-shelf CAE-based fatigue tool, optimized for today's large model sizes and realistic loading schedules. Its advanced fatigue solver enables wind turbine manufacturers to identify when and where failure could occur and design using complete loading duty cycles representing the full 20 year loading events experienced in service. DesignLife's graphical, process-oriented interface provides a well-proven basis for determining fatigue and structural integrity throughout the components' life.
GL RC's certification ensures a product will meet structural integrity requirements in accordance with the latest and applicable standards and guidelines. For nCode DesignLife, this certification assures customers that their component designs, such as wind turbine hubs and main shafts, can be analyzed in conformity with GL Renewables Certification's Guideline for the Certification of Wind Turbines (2010) by choosing the right settings in the software. This includes fatigue analysis under complex real world loading conditions specified in GL RC's guidelines or IEC 61400-1 international standard. The assessment was performed on standard product released in 2011 (nCode DesignLife 7) and no product modifications were required by GL Renewables Certification in order for nCode DesignLife to enable the software user to choose the correct options in order to meet the respective standard requirements.
nCode DesignLife users will now find that the applicable methods have already been assessed and will not need to be justified in the certification process of their product. "Our goal for this third-party validation of nCode DesignLife is that it will result in faster time to market for OEMs and suppliers of wind turbines," explained Steve Tudberry, Vice President HBM nCode. "Customers will now be able to spend less time on how calculations are performed and more time on the actual engineering decisions required."
About HBM-nCode
nCode products are provided by HBM, a world-wide technology and market leader, offering products and services across the entire measurement spectrum, from virtual to physical. Celebrating 30 years, nCode is the leading brand for durability and data analysis solutions. Its technologies help customers understand product performance, accelerate product development and improve design. The power and ease of use of HBM technologies is a direct result of its world-class development process, expertise and in-depth experience of a broad range of industries. nCode product development is ISO9001 certified. Product support is available through HBM-nCode offices in Europe, North America and Asia. For more information, please visit http://www.hbm.com/ncode.
About GL Renewables Certification
GL Renewables Certification, part of the GL Group, is a leading certification body primarily focused on the certification of wind farms, wind turbines and their components. At the forefront of understanding in renewables technology, it is abreast of all the necessary standards and requirements and takes a harmonised approach in ensuring that these are met. Manufacturers, banks and insurers around the world rely on the state-of-the-art service provided by GL Renewables Certification. For more information, please visit http://www.gl-group.com/renewables