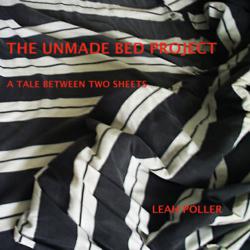 New ammunition on a very puritan subject.
New York, NY (PRWEB) April 03, 2012
After devoting a dozen years to sculpting the bed in all its literary and visual forms (see http://www.leahpoller.com "The 101 Bed Collection"), international sculptor Leah Poller opened the discussion of the unmade bed to an international audience (http://www.unmadebedproject.com). "I created The Unmade Bed Project website to reassure myself that I really understood the role of the bed in our lives. Never did I imagine that the public would be so willing to open the bedroom door wide and reveal the bed in all its glory. The variations on this theme are wilder than anything I could have imagined," she exclaims. "Sharing it in book form will finally give librarians new ammunition on a very puritan subject," she shares with a knowing wink.
Prim and proper advertising tends to depict a perfectly made bed. There is as staggering abundance of harmonious duvet covers, pillows, and throws in classic pastels and prim florals. "The Unmade Bed Project" tells a different tale: plaids, stripes, and polka dots. The cacophony of prints and off-the-charts color combos run a close second to Prada when it comes to stylishly unexpected combinations of clashing patterns in bedding.
Lighting also plays a major factor, with little interest remaining in pairs of bed table lamps. Neon, and strings of lights in rainbow hues are combined with swags, drapes, garlands and even iron gates to demarcate the personal boundaries of intimacy.
Minimalist and maximalist interpretations run the gamut from mattress ticking as a base for a thrown-on sheet, to a nocturnal clutter so dense that barely an inch remains for a sleeper to snuggle in.
Literary pundits get the final say with expressions as provocative as "I will sleep when I am dead" or "Raw Dog", staking a claim on a dream space before the eyes are barely shut.
In the history of the bed, which is less than 250 years old in its present form, one thing has become clear: just as personality is expressed in the clothes we wear, so the bed tells an enormous amount about each person and provides a rich, unexplored area for social anthropology.
Napoleon Bonaparte said, "The bed has become a place of luxury to me! I would not exchange it for all the thrones in the world". Perhaps we have come full circle, as Poller's first edition of "The Unmade Bed – A Tale Between Two Sheets" visually supports the curious nature of each one's personal throne.
For pre-publication conditions, contact unmadebedproject(at)gmail(dot)com. "The Unmade Bed – A Tale Between Two Sheets" Volume II (in preparation) will be focusing on beds from around the world.
For further information: e: unmadebedproject(at)gmail(dot)com or 212 274 1704
Web: http://www.leahpoller.com
Web: http://www.unmadebedproject.com
About Leah Poller: http://www.leahpoller.com
Leah Poller was born in Pennsylvania. She received classical training in sculpture at the prestigious Ecole Nationale Superieure de Beaux Arts, in Paris, France. Partaking of a rich, multi-cultural environment, Poller interacted with foremost members of the international arts communities of France, Spain, Italy and Latin America. Returning to the United States in 1992, she established her studio in Soho and began the series of "101 Beds" which has been exhibited in galleries and institutions in Europe, Mexico, and throughout the United States. In 2009 Poller moved to Sugar Hill, Harlem. She has recently concluded a 12-year project - The 101 Bed Collection and is working on several portrait commissions. She has been featured on CNN, Fox Television and in numerous art publications. She has lectured extensively and held workshops on creativity. She was named Director of "Intercambios de Arte y Cultural Internacionale", a not-for profit furthering cultural exchanges between the Americas and spearheading the restoration of a major twentieth century mural, recently discovered to be the work of Philip Guston.
About the Unmade Bed Project: http://www.unmadebedproject.com
Conceived as a global project, NY Sculptor Leah Poller has invited people from around the world to post an image of their unmade bed. The result is one of the most intriguing and comprehensive peeks into a highly intimate space that is rarely exposed to the general public. As social anthropology, it reveals a place/mood/expression of enormous variations and impacts our understanding of intimacy in a never-before exploration of contemporary society. Participants can also record a two-minute dream sequence. The Unmade Bed Project" in book form will be published in Spring 2012.