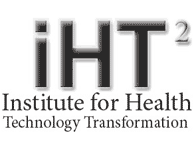 Health IT will play a major role in the evolution of healthcare for children and adults
New York, NY (PRWEB) April 03, 2012
The Institute for Health Technology Transformation announced the speakers for their panel session entitled, "Redefining Telehealth for the 21st Century Healthcare System" at the Institute's Health IT Summit in Atlanta taking place April 24-25, 2012 at The Omni Hotel CNN Center.
The panel will be moderated by Jean DerGurahian, Executive Editor, SearchHealthIT.com, TechTarget. Speaking will be Naomi Fried, PhD, Chief Innovation Officer, Children's Hospital Boston; Paula Guy, Executive Director, Georgia Partnership for TeleHealth, Inc; Joseph Barrow, Jr., EdD, Superintendent, Ware County Schools; Amnon Gavish, SVP of Vertical Solutions, Vidyo; and Rick Jennings, Chief Technology Officer, vRAD.
The panel will discuss the changes that telehealth has faced through recent technological advancements, both in definition and potential. Areas of focus will include: defining telehealth today, the implementation of mobile devices in telehealth, the changes of delivery of care for the provider and patient, and successful initiatives for improving care and efficiency.
"Health IT will play a major role in the evolution of healthcare for children and adults," said Joseph Barrow. "Providing high quality care via Telehealth will become the new normal for the underserved."
The iHT2 Health IT Summit in Atlanta is the premier executive summit focused on the strategies and tools that are re-defining customer care, collaboration, and efficiency in the health care provider markets. The summit will bring together over 200 CIOs, VPs, and Directors of IT from hospitals, health systems, and larger physician practices to discuss the latest trends and challenges in topics including: Telehealth, mHealth, Meaningful Use, Accountable Care Organizations, Privacy & Security, Interoperability, Health Information Exchange, Cloud Computing, and more.
Sponsors and Partners for the 2012 iHT2 Health IT Summit in Atlanta include:
ICA, InterMetro, VitalHealth Software, vRad, Comcast, Altus, VMware, Standard Register, Vidyo, EMC, Intellect Resources, CED Solutions, Metro Atlanta Chamber, Technology Association of Georgia, Medical News Georgia, Georgia Health Information Management Association, Technology Association of Georgia, and many more.
About Institute for Health Technology Transformation:
The Institute for Health Technology Transformation is the leading organization committed to bringing together private and public sector leaders fostering the growth and effective use of technology across the healthcare industry. Through collaborative efforts the Institute provides programs that drive innovation, educate, and provide a critical understanding of how technology applications, solutions and devices can improve the quality, safety and efficiency of healthcare. http://www.ihealthtran.com