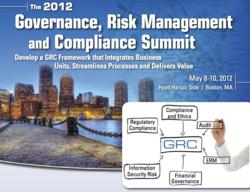 I'm very pleased with the conference – it was time well spent. I feel inspired and empowered to design and implement a GRC program for my company.
Boston, MA (PRWEB) April 03, 2012
Global Strategic Management Institute (GSMI) is proud to present the Governance, Risk Management and Compliance Summit (GRC). The GRC Summit will be holding it's 6th installment on May 8-10, 2012 at the Hyatt Harbor Side Hotel, Boston MA.
The GRC Summit is the only conference available that provides a comprehensive view of the GRC framework. The summit provides risk and compliance executives a venue to share ideas, learn from peers and evolve existing methodologies that have been created to support the people, process and technologies of their organizations. The GRC Summit is an intimate gathering and covers a wide range of industries and subjects from financial and regulatory topics to IT GRC and compliance.
Industry thought leaders and case study examples will be presented and attendees will gain a deeper understanding of what the GRC methodology is, how it can benefit your organization and how to develop a GRC strategy.
The summit will highlight case studies from leaders in the GRC arena, including:

Walgreens
Best Buy
AIG
Deloitte
Lockheed Martin
Paychex
Ryder
and many more.
Partner organizations such as ISACA and OCEG (Open Compliance and Ethics Group) will join the discussion, and our sponsors will be onsite to offer attendees solutions to their most pressing risk and compliance issues. Sponsors of the summit include SAP, SAI Global, MEGA and Axis Technologies.
For more information including a full speaker lineup and conference agenda please visit The GRC Summit online at http://www.theGRCSummit.com. For registration and sponsorship information contact Tim Suski at Tim.Suski(at)gsmiweb(dot)com or call 888.409.4418 ext. 710.
About Global Strategic Management Institute:
GSMI is a leader in the industry of executive education, creating conferences, summits, workshops and training sessions that combine rich learning environments with the opportunity to network with today's most relevant thought- leaders, speakers and practitioners. GSMI's annual events have reached 70% of the Fortune 500 companies, in over 30 countries, and cover topics that today's leaders find most challenging and inspiring. More information about Global Strategic Management Institute and The GRC Summit can be found at: http://www.gsmiweb.com