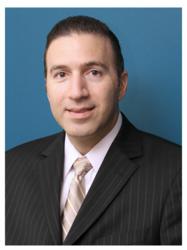 Ft. Lauderdale, FL (PRWEB) April 03, 2012
e-Builder, the pioneer of cloud-based construction program management software, announced that Jonathan Antevy, co-founder and CEO, will be a panelist on a workshop April 18th, in Cincinnati OH hosted by the Construction Users Round Table. The one-day workshop, titled Achieving Successful Projects in A Volatile Market, will offer insights from industry thought leaders on strategies that can maximize efficiency and productivity in capital project delivery.
Participants will learn about the principles, pitfalls and suggestions for improvement from those who have learned through direct engagement in initiating change. The workshop is formatted to permit all attendees to actively participate and to engage in interactive discussions with others facing the challenges of doing more with fewer resources.
In 1995, Jon Antevy introduced the concept of the Internet as a practical tool to improve communications and collaboration on construction. Since then, e-Builder has become the leading provider of construction program management software to healthcare, higher education, K12, manufacturing, and government owners, and an enabler for emerging project delivery methods like LEAN and IPD. "I'm honored to have the opportunity to speak alongside one of our clients, and especially one that is such a huge advocate for owner-driven software, and share our experiences helping owners overcome their project challenges" said Antevy.
Antevy will sit on the panel that will explain "How New Technologies Create Solutions and Make Capital Projects more Cost effective for Owners". This panel will include Guillermo Ramos, Director of Capital Improvements at the University of Texas Southwestern Medical Center, Mark Hellstern, Site Project Manager at Progress Energy, and Dan Slade, Manager of Construction Automation with Jacobs. The session will be moderated by Mr. Ray Topping, Executive Director, FIATECH. The focus of this session is sharing information on the new cutting edge technologies impacting capital projects, and how these can be adapted to meet the needs of both global and domestic projects. To register, please visit http://www.curt.org/Events.aspx.
About e-Builder
e-Builder is the leading provider of fully integrated, cloud-based construction program management software for top facility owners and companies that act on their behalf. The company's flagship product, e-Builder Enterprise, improves construction program execution resulting in increased productivity and quality, reduced cost, and faster project delivery. Since 1995, e-Builder's technology leadership and construction industry focus has provided thousands of global companies, government agencies, and healthcare and educational institutions managing billions of dollars in capital construction programs with solutions to improve the plan, build and operate lifecycle. The company is privately held and headquartered in Fort Lauderdale, Florida. For more information, visit http://www.e-Builder.net.