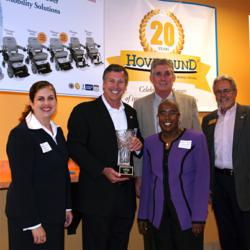 It is an honor to receive this from all of you that made such a great effort to bring us back to beautiful Sarasota
Sarasota, FL (PRWEB) April 02, 2012
Hoveround Corporation, the nation's leading direct-to-consumer manufacturer of power wheelchairs, hosted the Sarasota Economic Development Corporation (EDC), business leaders and media this past Thursday evening at their new administrative offices in Sarasota County.
Among those in attendance were Sarasota County Commissioners Carolyn Mason, Joe Barbetta, Jon Thaxton and Chair, Christine Robinson. Attendees were treated to an in-depth tour of Hoveround's operations and a brief presentation by Tom Kruse to celebrate Hoveround's homecoming.
It has been 20 years since Hoveround's founder and CEO, Tom Kruse, first developed the Hoveround power chair in his garage in Sarasota County. Since then, the company has grown to over 500 people, with over 360 employed locally. Hoveround plans to add an additional 100 jobs to the region over the next 5 years.
"Hoveround's search for the right space in the right place went on for nearly a year. We needed to find a class-A, professional building that would allow us to house our administration offices in a sole facility, but also within a community that could support the needs of our business and employees," explained Kruse. "This location in Sarasota was a perfect fit."
Mark Huey, President and CEO of the EDC, presented Tom Kruse with a heartfelt award welcoming Hoveround back to the county where it all began in April 1992.
"It is an honor to receive this from all of you that made such a great effort to bring us back to beautiful Sarasota," exclaimed Kruse. "We've been able to give back the gift of mobility to over 180,000 people and their families and we look forward to continuing that good work here in Sarasota."
With its manufacturing and customer service facilities remaining in Manatee County and the expansion of its administrative offices in Sarasota County, Hoveround Corporation continues to be an important economic driver in the local region.
About Hoveround
Hoveround Corporation has dedicated 20 years to providing mobility solutions, such as power wheelchairs , which genuinely improve the quality of life for individuals with limited mobility. Hoveround is the largest power wheelchair manufacturer that delivers directly to the customer, having provided over 180,000 power chairs to those in need. Every Hoveround power wheelchair is custom assembled in the U.S.A.
Hoveround Corporation's full line of mobility solutions also include the HOVERLIFT Suite of personal mobility and lifting solutions, wheelchair ramps, motorized scooters, and mobility accessories to help people with mobility challenges regain their independence and freedom.