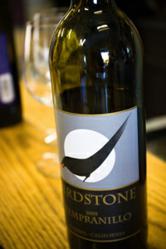 "We'll be pairing several of our Birdstone Winery wines with selections of Fiscalini's premium cheeses for you to enjoy, along with live music and more,"
Madera, CA (PRWEB) April 03, 2012
Birdstone Winery announces "Tasting Nights"
A popular stop along the Madera Wine Trail, Birdstone Winery has announced their schedule for "Tasting Nights" this spring and summer.
The first Tasting Nights is set for Saturday, April 21 from 5-8 pm. The wines of Birdstone will be paired with artisanal cheeses from Fiscalini Farmstead.
"We'll be pairing several of our Birdstone Winery wines with selections of Fiscalini's premium cheeses for you to enjoy, along with live music and more," said Tony Kirk, owner of Birdstone Winery.
Tickets are $15 for Wine Club Members and $25 for the public. A "Box Dinner" is also available for advance purchase or that evening for $10.
"Wine Club Members will also enjoy increased member discounts and specials on our favorite wines," said Kirk.
Reservations can be made at the tasting room located at 9400 Road 36 in Madera Fridays from 12-15 or Saturday and Sundays from 11-5, or by calling 559-970-2060. Tickets can also be purchased at their website, http://www.birdstonewinery.com. Guests can use the code "DINNER' to pre-order diner, "CLUB" to get the wine club rate, or "CLUBDINNER" for both.
Future Tasting Nights events include Perfect Wine & Pasta Pairing with Chef Mike Mazzoni on June 2, and Birdstone Vino and BBQ on July 21,
Jarrod Lyman
Director of Media
Yosemite Sierra Visitors Bureau
(559) 683-4636