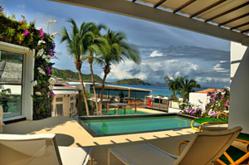 "We are honored to represent the Taïwana Hotel and eager to introduce it to our clients", said St. Barth Properties president Peg Walsh. She added, "The Taïwana will make a wonderful addition to our collection."
Franklin, MA (PRWEB) April 03, 2012
St. Barth Properties is pleased to announce that the Hotel Taïwana has accepted its invitation to join the Hotels of St. Barth collection. Long considered St. Bart's most exclusive hotel, the legendary Taïwana has been the hotel of choice for generations of visiting celebrities who have valued both its luxury, service and the discretion of its staff.
The Hotels of St. Barth is a division of St. Barth Properties and a by-invitation-only collection of twelve of St. Bart's most distinctive hotels.
"We are honored to represent the Taïwana Hotel and eager to introduce it to our clients," said St. Barth Properties president Peg Walsh. She added, "The Taïwana will make a wonderful addition to our collection."
Located on Flamands Beach, considered to be one of the island's most beautiful, Taïwana's 22 rooms and suites include bedrooms with well-appointed marble baths and 1, 2 and 3 bedroom suites with special features like private pools and terraces and spectacular views.
Accommodations include a 3 bedroom penthouse that would make an ideal rental for an extended family with children. The restaurant, oceanfront and adjacent to the hotel pool, serves breakfast and classic lunch dishes and is transformed at dinnertime into an Italiane Ristorante, courtesy of the team of the acclaimed restaurant PaCri. Gym staff trained by Stephane Demouy of Paris offer group lessons and individual instruction. Massages and other spa treatments are booked in the privacy of the guests' rooms; services at it on-site salon Neville include manicures, pedicures and hair styling.
St. Barth Properties is currently booking the property and taking reservations for lunch and dinner at the restaurant, which is open to the public.
St. Barth Properties is a boutique travel company specializing in vacations to St. Barth, FWI. The company has a portfolio of over 160 carefully selected private villas, a branded collection of the island's most distinctive hotels. Additionally, they offer a full range of concierge services. Founded in 1989, with the maxim Live Your Dream ®, the company and its