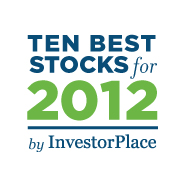 Rockville, Md. (PRWEB) April 03, 2012
Back in December, InvestorPlace.com released its list of the 10 Best Stocks for 2012. The Buy List, which is free and open to the public, includes buy-and-hold recommendations from a group of money managers, market experts and financial journalists.
Eight of the 10 stocks finished the quarter ending March 30 in the black, with six stocks topping the Dow Jones' 8% return, five trumping the S&P's 12% and three besting the Nasdaq's 19% gain.
The top three stock picks as of the market close March 30 include MAKO Surgical (up 67%), Capital One (up 32%) and Microsoft (up 24%):
#1: MAKO Surgical. Blowing away the competition for the third straight month in a row was MAKO Surgical. Recommended by Motley Fool co-founder David Gardner, shares of MAKO Surgical, a medical device company, are up 67% year-to-date as of the market close March 30.
#2: Capital One, up 32%. Recommended by Philip van Doorn, banking and finance analyst for TheStreet
#3: Microsoft, up 24%. Recommended by James Altucher, founder of Stockpickr
Year-to-date returns for the other seven stocks as of March 30 are:
#4: Caterpillar, up 18%. Recommended by Dan Burrows, CBS MoneyWatch columnist.
#5: Alcoa, up 16%. Recommended by Jeff Reeves, InvestorPlace.com editor.
#6: FedEx, up 10%. Recommended by Paul La Monica, CNNMoney editor and author of The Buzz market column.
#7: Turkcell, up 7%. Recommended by Charles Sizemore, money manager and editor of The Sizemore Investment Letter.
#8: Banco Santander, up 2%. Recommended by Jim Jubak, money manager and author of the stock-picking blog Jubak Picks.
#9: Hershey, down 1%. Recommended by Jon Markman, financial journalist, newsletter writer and trader.
#10: Arcos Dorados, down 12%. Recommended by Josh Brown, author of The Reformed Broker blog.
For complete details on all 10 of the Best Stocks for 2012, visit: http://www.investorplace.com/best-stocks-for-2012/.