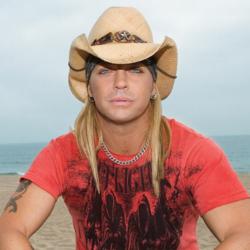 All business owners can learn from Bret Michaels how to think and dream even bigger and that the word "no" simply doesn't exist as long as you are persistent and do what you love.
Dallas, TX (PRWEB) April 03, 2012
Bret Michaels was the lead singer for rock group Poison and winner of The Celebrity Apprentice. Dedicated to his family, entertaining millions, and raising money for charity, Bret has now shifted his attention to small business entrepreneurs.
Regarding the addition of Bret to the already impressive Mega Partnering 5 speaker lineup, JT Foxx, founder of Mega Partnering said, "Bret Michaels is not just a rock star but a brand. In a day and age where a lot of bands wither away or are one hit wonders Bret Michaels has stood the test of time and is still going strong. His brand currency keeps growing partly because of his savvy marketing skills. I want my guests at Mega Partnering 5 to learn from someone who genuinely wants to make the world a better place for entrepreneurs to survive and thrive. All business owners can learn from Bret Michaels how to think and dream even bigger and that the word "no" simply doesn't exist as long as you are persistent and do what you love."
Bret Michaels will share his story on how he survived a near-death experience and how he was able to stay in business and stay relevant. He will also teach entrepreneurs how to stand out in today's ever-crowded market. He will also join in a charity auction for the Eric Trump Foundation and play a few songs for all to enjoy. A truly magical night awaits.
The purpose of Mega Partnering 5 is to connect business owners with leading experts to increase their circles of influence and create business relationships that last. "Your network equals your net worth," stated JT Foxx. "I started Mega Partnering to connect my clients with my circle of influence and powerful people in my network in hopes of building new valuable relationships for all involved."
All previous four Mega Partnering events have been sold out and seating for this year's event in Dallas, Texas, May 3 – 6 is by invitation only. For more information you on this exclusive event visit http://www.MegaPartnering5.com to request an invitation.
About Mega Partnering
Mega Partnering is an independent international organization started after watching a 60-minute episode about Davos, applying, and getting turned down. Not willing to take rejection, JT Foxx decided to start his own opportunities for small businesses and called it "Mega Partnering". The conference has since grown to include small entrepreneurs from all over the world, and raises money for charitable initiatives, keeping with the philosophy, "Learn, Earn, Return". Mega Partnering attendees have included Mayor Rudy Giuliani, Gene Simmons, Kevin Harrington, Former Prime Minister Brian Mulroney, George Ross, Wayne Allyn Root, Stedman Graham and Bruce Buffer. Mega Partnering is committed to improving the state of the business world by engaging small businesses, real estate investors, internet marketers, and other leaders of society to shape partnerships and life-long relations.
Mega Partnering V
Mega Partnering V is an invitation-only event, May 3-6 in Dallas, Texas that will feature a business insider's WOW tour of Dallas Cowboys Stadium that offers our VIP guests the opportunity to get inside the brilliant business mind of Jerry Jones. Guests will also experience talks from the top wealth innovators and leaders in the world, and a private acoustic mini-concert by Poison front man and Celebrity Apprentice winner, Bret Michaels, followed by a charity auction to raise money for the Eric Trump Foundation (aiding St. Jude Children's Research Hospital). To request an invitation, please visit http://www.MegaPartnering5.com.