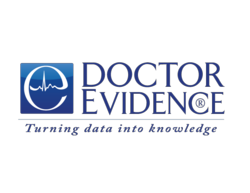 Doctor Evidence clients now include eight out of the top 10 pharmaceutical companies.
Santa Monica, CA (PRWEB) April 04, 2012
Doctor Evidence, LLC, the leader in evidence based medicine technologies and services for accurate comparative effectiveness, announced today that the Company has achieved its third consecutive year of sales growth above 35 percent per year. The Company also announced a compound annual growth rate of 44 percent from 2009 – 2011.
Doctor Evidence clients now include eight out of the top 10 pharmaceutical companies. The Company's growth is part of an overall business strategy in pursuit of broad market adoptions and competitive sustainability of the Doctor Evidence cloud-based technologies and services. Productization of market-oriented segments of the Doctor Evidence platform architecture has led to greater reach and access into the market. Most notably, Doctor Evidence has galvanized its Payer Assisted Dialogue program to help manufacturers and payers communicate in a compliant oriented fashion to mutually determine the differentiation of a treatment in alignment with payer outcome interests.
"We are particularly pleased by the growth in our client base, as Doctor Evidence clients now include many of the leading manufacturer companies and distinguished evidence-based practice centers of excellence like Kaiser Permanente. Kaiser Permanente uses Doctor Evidence's cloud-based Virtual Collaborative Workspace platform to make its national care management guidelines," said Doctor Evidence CEO Robert Battista. "We are happy with the consistent increase in revenues, but our greatest achievement this fiscal year has been the sustainable development of our relationship with Kaiser Permanente and other leading companies in the market."
In 2011, Doctor Evidence nearly doubled the number of projects for Kaiser Permanente and engineered a collaborative workspace platform for use by the national guideline development team and further interaction with multiple departments inside of Kaiser to align evidence-based medicine practices. The work at Kaiser will be a model for development of other payer/provider and IDN networks to be a part of Doctor Evidence's solutions offerings. The companies plan to create a national guideline member network of care providers and payers that would like to contribute to and utilize a set of evidence-practice management guidelines.
In addition, Doctor Evidence has expanded its "NHANES Platform," which enables browser-based access and rich analysis of the CDC's National Health and Nutrition Examination Survey(NHANES). Sales of the NHANES Platform have increased by 76 percent since 2010, validating this product as a business-within-business type of offering.
About Doctor Evidence
Doctor Evidence is the leader of digital cloud-based software technologies companies which process clinical data from published clinical studies and delivers information to sectors within healthcare, including payers, providers, manufacturers and government. The Doctor Evidence could-based software platform enables users to conduct comprehensive evidence-based medicine reviews, including meta-analyses with the highest level of accuracy, relevance and efficiency practiced in the market today. Doctor Evidence is enabling the transformation of the healthcare sector to an Accountable Care Organization model by providing a solution that identifies and differentiates the "total cost-of-care" of any intervention in relation to its comparative efficacy and comprehensive care benefits.