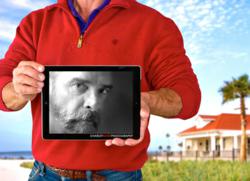 "It is difficult to describe the exhibit, but fascinating to view," says Bond.
Dana Point, CA (PRWEB) April 04, 2012
What started as a simple creative endeavor for Palm Springs-artist Charley Akers has turned into a tribute to Festival of Arts artists with a Photo-Illustrative Exhibit that will be unveiled May 15 at The Ritz-Carlton, Laguna Niguel. Even the artists will be viewing Akers work for the first time. To promote this year's Festival of Art's 80th Anniversary, the exhibit will run through August 31 at the resort.
With a variety of computer techniques and just a touch of color, Charley Aker's unique black and white portraits capture the essence of each artist as well as their craft, which is featured as a juxtaposed element in each of the portraits. Hanging beside each of Aker's photographs will be a piece of art/sculpture by the artist depicted in the portrait. The exhibit includes such artists Russell Jacques, Hanna Harris, Tom Swimm, Paul Bond, Sandra Jones Campbell, Michael Ezzell, Adam Neely, Gary Monji, Fred Stodder, Marcus Thesing and Pat Sparkuhl.
"We are thrilled to feature Charley's work as he honors the amazing talent you will find at the Festival of Arts. It is difficult to describe the exhibit, but fascinating to view," says Donna Bond, the resort's director of marketing. "Charley's unique style lends itself well to the resort's playful approach to luxury and truly creates such a great level of interest for our guests about the exhibits at the Festival of Arts," she added.
As the official hotel partner, The Ritz-Carlton, Laguna Niguel makes enjoying the Festival of Arts and Pageant of the Masters a first-class experience through packages that feature incredible seats and exclusive offerings. The Behind the Velvet Rope Experience features ocean view overnight accommodations on The Ritz-Carlton Club Level, two premium seat tickets to the Pageant, a guided docent tour of the Festival, a backstage tour of the Pageant for $1,475 per night. The Genius Experience includes overnight accommodations and two premium seat tickets to the Pageant with rates starting at $625 per night. Packages can be booked on-line at http://www.ritzcarlton.com/LagunaPackages.
Photographer Charley Akers combines an imaginative eye with computer savvy to create an entirely new form of portraiture. Inspired by past 20th century master photographers, he has developed his current black & white photo-illustrative style to be totally unique in the US market. Akers describes his work as "Yousef Karsh meets Steve Jobs." An enthusiasm for new experiences and a personal challenge to drive his work in a more creative direction has inspired Akers to refocus his 35-year corporate photography career to this new artistic style. He has an exuberant, social personality that draws him to working with people and portraiture. Akers has shot assignment photography for fortune 500 and fortune 100 companies in 22 states and 7 countries with credits including hundreds of national & international ads, magazine covers, brochures, and annual reports. Working with CEO's, celebrities, and professional sports figures his photography has appeared in major magazines, brochures and television around the world. Clients have included AT&T, Coca Cola USA, Hotel Del Coronado, Playboy Enterprises, Polaroid Corporation, University of Georgia, UPS, Vail Mountain Resort and Spa, La Costa Resort & Spa, and more. He continues to enjoy his corporate projects as well, and his studio, Charley Akers Photography, is based in Palm Springs, California. For more information, please visit http://www.charleyakersphoto.com or email ca.photo(at)me(dot)com.
The Ritz-Carlton, Laguna Niguel premiered as the first luxury resort along coastal Orange County in August 1984. Twenty-six years later, the resort is a re-imagined surfside retreat that awakens guests' senses with its unique ocean-front setting and remarkable service heritage. The resort is the premiere destination for travelers who desire a playful approach to Southern California luxury.
The resort has been the recipient of many awards over the years, but is proud to boast earning AAA Five Diamond status for the 27th year, the longest in California. The resort offers many extraordinary luxury experiences including Raya, 180blũ, The Market Place, Eno, Bar Raya, The Spa and Jean-Michel Cousteau's Ambassadors of the Environment. For more information or reservations call 800-241-3333, the hotel directly at 949-240-2000, a travel professional or visit the web site at http://www.ritzcarlton.com/laguna.