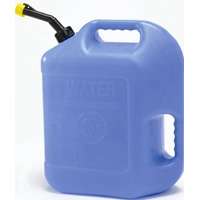 There is a variety of containers available for water storage
Destin, FL (PRWEB) April 03, 2012
The human body can go without food for days, but the lack of water can cause dehydration and lead to kidney damage as well as other life threating illnesses. Keeping enough fresh, drinkable water for each man, woman, and child during an emergency is imperative. Each person uses at least ½ gallon of water each day for hydration, cooking, and basic personal hygiene (brushing teeth, etc.). There are a variety of containers available for water storage, and choosing the correct type to fit specific needs may require time and research. Disaster Relief Supply suggests the following products depending on how much water is required, and physical space allocated, to last for the duration of an emergency.
5 to 6 gallon plastic water can: These are similar to the standard gas can, but manufactured with FDA approved plastic. These semi-ridged plastic cans are ideal for long term storage but do take up a lot of space when not being used. Plastic water cans are able to be carried from place to place safely due to their durability.
55 gallon plastic drums: Similar in construction to the smaller plastic water can except much larger. These large plastic drums are designed for long term storage. Since they become quite heavy (over 300 pounds) when filled, a pump must be used to draw water out. And as with the smaller plastic can, these drums take up a lot of space when not being used.
Collapsible water containers: Usually come in sizes from 2.5 to 5 gallons. These soft-sided plastic containers are ideal for emergency water storage since they can be easily stored on the shelf until needed, and take up very little space. Texsport, a manufacturer specializing in camping and outdoors equipment, is one supplier of this type of product.
Tub Liners: A larger version of this basic collapsible storage technology is the WaterBob or AquaPod. The large plastic bags unfold in a bathtub and will hold 65 to 100 gallons of water. Tub liners are made of FDA approved food grade vinyl and come with a syphon pump to fill small containers. These products are the most cost effective way of storing a large quantity of fresh water in the home.
Water Bladders: Free standing, heavy-duty, commercial grade products that usually contain between 100 and 10,000 gallons. Bladders are made of 22oz to 30oz PVC. Being a commercial product they are most likely priced above the residential user's budget, but if a large volume of water is needed, this is a solution.
Having an emergency water supply on hand for each member of the household is imperative for survival. Choosing the right container (or containers) to store enough water to sustain the family through an emergency is essential.