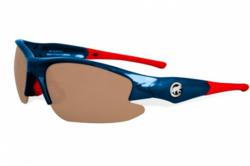 We want every athlete and sports fan to be wearing our high-definition lens sunglasses" Rick Milner Co-founder and President MASS HD Sunglasses.
(PRWEB) April 19, 2012
MAXX HD® Sunglasses (MAXX HD) announced that they have began shipping their high-definition Major League Baseball (MLB®) logo sunglasses to MLB® stadiums and their affiliates to prepare for the new season. MAXX HD® entered into a license agreement with MLB® early last fall. MAXX HD® the Colorado-based high definition lens brand is now an official supplier of attractive and functional MLB® franchise logo sunglasses, which will be available for all MLB® clubs, effective for the 2012 season.
As part of this new licensing agreement, MAXX HD® will have the rights to produce and market official MLB® licensed products.
"This is an extremely exciting time for MAXX HD® Sunglasses", said Rick Milner Co-founder and President, MAXX HD® Sunglasses. "We are proactive in our efforts to outfit an increasing number of baseball fans while we continue to build our sports relationships with collegiate sports teams."
MAXX HD® Sunglasses recently became the preferred sunglasses for the Chicago Cubs® and Wrigley Field™. Initial rollout of the products will be to launch in-state advertising campaigns and promotions for the Colorado Rockies™ and Chicago Cubs®. Maxx will be giving free lucky row give-a-ways at each home game for both the Rockies and the Cubs
The licensing agreement gives MAXX HD® Sunglasses the rights to produce and distribute their high-definition sunglasses with the official franchise logos from all 30 MLB® clubs.